5 Minutes With Podcast: Vanderbilt University Transitions Away from Coal to Natural Gas to Heat Campus Facilities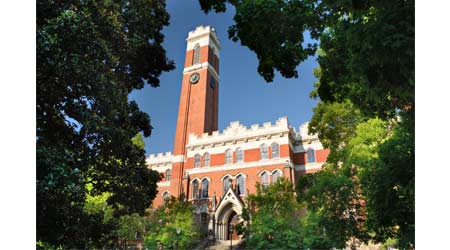 Mitch Lampley, the director of engineering and technical support-plant operations at Vanderbilt University in Nashville, Tenn., discusses the university's transition away from using coal to generate heat for campus facilities. Before decommissioning of the plant's last coal boiler, the university's power plant relied on burning coal for 126 years. The power plant has partially used natural gas since 1988, but still burned 105 million pounds of coal and produced 15 million pounds of waste per year.

5 Minutes With Podcast: University of Alabama Training Program Produces Well-Rounded Employees
Neal Dichiara, the Director of Building Maintenance for the University of Alabama in Tuscaloosa, discusses the impact of his department's training program on employees' skill sets. The Alabama maintenance staff was the recipient of a 2014 Facilities Maintenance Decisions Achievement Award for in personnel for its program.

5 Minutes With Podcast: Discussing Snow and Ice Removal Challenges at a National Park Service Site in Washington D.C.

Diana Bramble, a supervisory horticulturist with the National Park Service at Rock Creek Park in Washington D.C., discusses the snow and ice removal process at the 3,000-acre urban park. Diana's team is responsible for 21 miles of roadway and 22 miles of sidewalks. The sidewalks are a special challenge, as they spread throughout the city over a 50-mile radius and 99 separate land units. Rock Creek Park was founded in 1890 and is one of the country's first federal parks.

5 Minutes With Podcast: Baylor University Centralized Irrigation System Saves Water, Reduces Maintenance
Andy Trimble, Director of Campus Grounds for Baylor University's Facility Services in Waco, Texas, discusses his university's conversion to a centralized irrigation system on campus. Before centralizing the system, Baylor's facility services department spent 224 labor hours a year in order to turn the system on and off and make seasonal adjustments. The new system has enabled the department to better allocate those hours and find estimated savings of $150,000 a year on the 1,000-acre campus.

5 Minutes With Podcast: South Dakota City's Maintenance Team's Impact on Recycling
Gary Hargens, Maintenance Manager for Destination Rapid City/Main Street Square in South Dakota, discusses his department's role in the city's downtown recycling program, which has saved 20-24 tons of trash a year since 2012.

5 Minutes With Podcast: Infrastructure Renewal Program Helps Healthcare Facility's Sustainability Efforts
Al Neuner, vice president of facility operations at Geisinger Health System in Danville, Pa., discusses an infrastructure renewal program that grew from $10 million in savings from energy reduction programs. The hospital lowered its energy costs to $1.69 per square foot during a time when most are spending $4 to $6. For its efforts, the system won a 2014 Facility Maintenance Decisions Achievement Award.

5 Minutes With Podcast: University of Wisconsin-Milwaukee Eliminates the use of Chemicals on Turf Areas as Part of Grounds Management Program
Dennis Greenwood, manager of grounds and landscaping at the University of Wisconsin-Milwaukee, discusses his institution eliminating the use of chemicals on its turf areas and the impact the decision has had on the campus.

5 Minutes With Podcast: North Carolina County School District Keeps Energy Costs Down Through Period of Extreme Enrollment Growth
Greg Clark, Senior Director of Maintenance and Operations at Wake County (N.C.) Public School System, discusses how his school district manage to keep energy costs down through a period of extreme enrollment growth. The school district's energy use increased only 0.8 percent during a five-year period when square footage increased by 13.5 percent and enrollment increased by 11.6 percent. For their efforts, Wake County was named a recipient of a 2014 Facility Maintenance Decisions Achievement Award.

5 Minutes With Podcast: Stony Brook University's LED Parking Project Produces Significant Savings
Tom Lanzilotta, energy manager for Stony Brook University in New York State, discusses his campus' parking lot lighting project that retrofitted 14 campus lots with LEDs.

5 Minutes With Podcast: Florida College Reduces Potable Water Use with Well-Water System
Yohannes Asgedom, the energy management systems manager at Broward College in Davie, Fla., discusses the well-water system that reduces the use of potable water on campus

5 Minutes With Podcast: University of San Diego Successfully Implements Mobile CMMS
Kimberly Carnot, the director of facilities services and planning, facilities management at the University of San Diego, discusses her school's implementation of a mobile CMMS.

5 Minutes With Podcast: NASA Benefits from Post Occupancy Evaluation Program
Pete Aitcheson, O&M program manager for NASA Headquarters, discusses the organization's post occupancy evaluation program.

5 Minutes With Podcast: Training Program Benefits Maintenance Staff at University of Michigan
Rich Robben, physical plant executive director at the University of Michigan, discusses the school's training program for maintenance workers

5 Minutes With Podcast: HVAC retrofits save Colorado city more than $400,000
Jerry Cinkosky, Facilities Manager for the City of Westminster, Colo., discusses an HVAC retrofit project that saved the city more than $400,000.

5 Minutes With Podcast: How Recycling System Reduced Water Use by 25 Million Gallons at the University of Alabama-Birmingham
Matt Winslett, the engineering manager, in the University of Alabama-Birmingham Facilities Division, discusses a water recycling system that reduced water use by 25 million gallons in a calendar year.

5 Minutes With Podcast: How General Motors maintenance manager identifies, prioritizes hundreds of projects
Darrell Rounds, the manager of maintenance and industrial cleaning for GM Global Facilities, discusses the challenges of identifying needs and setting maintenance priorities for a company with sites located all over the world.

5 Minutes With Podcast: Hospital's Web-Based Training Program Improves Worker Safety
Bill Warren, the manager of training and development for the facilities engineering and maintenance department at the University of Pittsburgh Medical Center Presbyterian Shadyside Hospital, discusses his facility's web-based training program. The implementation of the program earned the facility a 2013 Facility Maintenance Decisions Achievement Award.

5 Minutes With Podcast: Hospital Says no to Pesticides for Turf Management
Mark Miller, the director of facilities with Washington Adventist Hospital in Takoma Park, Md., discusses his facility's decision to stop using pesticides on its lawns and landscapes.

Mountain of Maintenance: School District Near Chicago Ponders Renovations, Building Consolidations
John Fuhrer, Director of Operations for North Shore School District 112 in Highland Park, Ill., discusses maintenance and building consolidation efforts inside his school district.

Fighting Drought Conditions: How Texas University Deals With Local Water Restrictions
Jay Jascott, Landscape Supervisor, Facilities Management, from the University of Texas at Dallas, discusses the way that local water restrictions affect his department's grounds care activities and operations.

Seeking Certification: School District Pursues Energy Star Certification for Data Center
Gary Wright, Executive Director of Schools Operations at Cherokee County (N.C.) Schools, discusses his district's pursuit of an Energy Star certification for its data center.

All Together Now: Combining Grounds, Maintenance Staffs Improve Efficiency
Bob Bertram, the Executive Director of Facilities Management at the University of Southern Maine, discusses his school's decision to merge the grounds department and facilities maintenance staffs

Avoiding Outsourcing: Strategy Helps Increase Staff, Improve Quality
Paul Adjan, Facility Manager with the Glynn County Airport Commission in Brunswick, Ga., discusses his efforts to keep maintenance jobs in-house

Space Jam: Pennsylvania school factors storage issues into equipment purchase plans
Alex Bonnard, Grounds Manager for Haverford (Pa.) School, discusses purchasing new equipment and how to take advantage of limited storage space.

Cutting costs: Simple steps help Florida county achieve sustainability
Don Turner, Facilities Maintenance Director for the Okaloosa (Fla.) County Board of County Commissioners, discusses his department's utility conservation program.

Energy efficiency: Improvements help hospital save energy, money
Tom Smyth, Director of Facility Services at Cobleskill (N.Y) Regional Hospital, discusses the procedures his staff took to help the facility become more energy efficient.

Water consumption strategies with Todd Wilkening
Wilkening discusses educating his staff on ways to conserve water.

Worker Productivity Strategies with Darin Hargraves
Hargraves discusses his department's efforts to measure and improve the productivity of front-line technicians

5 minutes with Ken Roey, Executive Director of Facilities Planning and Management, Howard County Public School System
Roey joins Steve Schuster, Associate Editor, to discuss his school system's recently implemented employee-driven preventive maintenance program

5 minutes with Skip Milton, Assistant Director of Facility Operations at Texas Children's Hospital
Skip Milton, Assistant Director of Facility Operations at Texas Children's Hospital discusses his department's successful efforts to enhance energy-efficiency.

5 minutes with Emily Barrett
Emily Barrett, Sustainability Manager, Town of Cary, Cary North Carolina discusses her town's water conservation initiatives.

5 minutes with Ana K. Thiemer Project Manager - Renovation and Renewal Program, Facilities Services, University of Texas Austin
Ana K. Thiemer Project Manager - Renovation and Renewal Program, Facilities Services, University of Texas Austin discusses her department's successful efforts to secure more funding for renovations.

5 minutes with Rick Storlie Director of Administrative Services, Facilities Management University of Nevada, Las Vegas
Rick Storlie Director of Administrative Services Facilities Management University of Nevada Las Vegas discusses his campus's energy and water efficiency initiatives.

Energy efficiency project results in significant campus improvements
Steven M. Cox Assistant Director of Facilities Maintenance with Tulsa Community College discusses how an energy performance agreement saved his organization thousands of dollars and improved student's quality of life.

Government Facilities Management: One Airport's Renovation Success Story with Wayne Harvey
Wayne Harvey, Director of Facilities Managment at San Diego County Regional Airport Authority discusses his departments role in a $1.2 billion expansion project.

Making a Successful Transition to Zone Maintenance
Joe Payne, Public Works Operations Manager, Grounds Department, City of Springfield, Mo.

Energy Management: One School District's Success Story with Connie Kelley
Connie Kelley, energy manager and educator with the Chambersburg (Penn.) Area School District, discusses how her district has saved almost $2 million in four years with energy-management initiatives

Energy Efficiency: Role of HVAC Systems and Benchmarking with Jay Russell
Jay Russell, mechanical engineer lead with the University of Michigan in Ann Arbor, discusses energy-efficiency initiatives, including benchmarking and steam- and chilled-water-system maintenance

Personnel Management and Cost-Saving Strategies with Bruce Canter
Bruce Canter, director of operations with the Delaware Art Museum in Wilmington, Del., discusses strategies that have saved his organization money, including outsourcing, energy-efficieny initiatives, and utility partnerships.

Green Initiatives Save Money, Reduce Energy Use with Kim Farlin
Kim Farlin, maintenance coordinator with the Center for Prevention of Abuse in Peoria, Ill., discusses how lighting retrofits and changes to HVAC and controls systems have improved the bottom line

CHCP: Installation Insights with Mark J. Deming
Mark J. Deming, director of facilities with Branford (Conn.) Public Schools, discusses his district's installation of a combined heating, cooling and power (CHCP) system

CMMS: The Importance of Data with Susan Deane
Deane, technical assistant with the facilities management department at Chapman University in Orange, Calif., discusses her department's computerized maintenance management system (CMMS) and its impact on maintenance and operations

Energy-Conservation Program: HVAC, Lighting, Roofing with Sean Arnold
Sean Arnold, director of maintenance with Hernando County School District in Brooksville, Fla., outlines his district's energy-conservation program, which includes cool roofs and lighting and HVAC retrofits

Grounds Care: Designing, Maintaining Athletic Fields with Michael Tarantino
Michael Tarantino, director of maintenance and operations with Poway Unified School District in Poway, Calif., discusses strategies for designing and maintaining athletic fields.

Outsourcing: Strategies for Hiring, Managing Contractors with Steve Spencer
Steve Spencer, facilities specialist with State Farm in Bloomington, Ill., discusses his organization's contractor-qualification process and the way his department evaluates contractor performance

Bottom-Line Water-Conservation Strategies with Jeff Hanulec
Jeff Hanulec, director of engineering with Westin Copley Place in Boston, discusses plumbing and HVAC strategies that have paid off in terms of water and monetary savings

The Manager's Role in LEED Certification with Curt Stainbrook
Curt Stainbrook, mechanical systems manager with Macalester College facilities services in St. Paul, Minn., discusses the HVAC and building-automation system technologies in one LEED-certified facility

Lighting Retrofits: Save Money, Reduce Maintenance with Betsy Pooley
Betsy Pooley, director of building services with Aultman Hospital in Canton, Ohio, shares her lighting-retrofit success stories, including the use of LED technology

Maintenance Technician Training with Rod Allen
Rod Allen, system director for plant operations with Lee Memorial Health System in Fort Myers, Fla., provides strategies for implementing online and traditional training.

HVAC Management Strategies with Mike Holzkamper
Mike Holzkamper, Director of Facilities Management with Gateway Medical Center in Clarksville, Tenn., discusses key issues surrounding the hospital's HVAC system.

Developing a Business Continuity Plan with Sean Nelson
Sean P. D. Nelson, assistant director, facilities engineering with Johns Hopkins Outpatient Center in Baltimore, outlines strategies for building an effective business continuity plan.

Developing a Plan for Snow and Ice Removal with Tim Holysz
Holysz, director of landscape services with Western Michigan University, discusses the importance of a plan that includes sustainability initiatives and preventive maintenance.

Lessons in Emergency Preparedness and Disaster Response with Dan Heater
Dan Heater, Director of Building and Landscape Services with the University of Iowa, talks about the university's response to the 500-year flood that hit the Iowa City campus in the summer of 2008.

Benchmarking Energy Use with Mike Zanghi
Mike Zanghi, director of facilities with Highland Hospital in Rochester, N.Y., discusses his experiences with benchmarking the hospital's energy use.

Building-Automation Systems and Energy Efficiency with Skip Milton
Skip Milton, Assistant Director of Facilities Operations, Energy, Maintenance & Operations with Texas Children's Hospital, discusses his hospital's building-automation system and its impact on energy efficiency.

Lessons in Educational Funding with Tim Woodley
Tim Woodley, director of operations with the West Linn-Wilsonville School District, discusses the district's success in passing bond measures.

The Evolution of CMMS Technology with Frank Lucas

Frank Lucas, Assistant Director, Work Management with the University of Nevada, Las Vegas, discusses the variety of functions the university's CMMS provides.

Lighting Retrofits with Chris Cioni
Chris Cioni, Associate Director of Facilities Management with the University of California, Davis, discusses the university's Smart Lighting initiative

Managing a Grounds Equipment Fleet with Brian Smith
Brian Smith, grounds manager with Progressive Insurance, discusses successful fleet-management strategies.

Plumbing and Water Conservation with Bob McManaway
Bob McManaway, Director of Plant Operations and Support Services with TradeWinds Island Resorts & Conference Centers in St. Pete Beach, Fla., discusses strategies for implementing water-saving initiatives.

Strategies for Specifying Vegetative Roofs with Tim Pennigar


HVAC renovations with Jeffrey Plutz


Bottom-Line Grounds Management with John Burns
Landscape Manager University of Texas

Build a Recycling Program with Lynda Boomer
Energy and Environmental Engineer, Physical Plant Department
Michigan State University

Save Time and Money Using a CMMS with Walt Petters
Director of Maintenance and Plant Operations
Brevard County Public Schools

Snow and Ice Management with John Lawter
Associate Director, Plant Building and Grounds Services with the University of Michigan

Emergency-Management Planning with Cathy Anthofer
Director of Campus Safety and Security, Earlham College, Richmond, Ind.

Water Conservation on a Drought-Stricken Campus with Mark Duclos
Director of Operations and Maintenance, The University of Georgia, Athens, Ga.

Green-Purchasing Strategies with Tom Badrick
Sustainability Coordinator, Legacy Health System Portland, Ore.

Campus Security and Safety with Bill Elvey
Director for Facilities Management, Engineering, Planning & Construction The University of Texas at Dallas Richardson, Texas

Drought-Tolerant Landscaping with Joe Jackson
Director, Grounds and Sanitation Services
Duke University, Durham, N.C.

Establishing Sustainable Facilities with Kevin Folsom
Director of Facilities and Plant Operations
Dallas Theological Seminary, Dallas, Texas

Water Conservation and Plumbing Technology with Marty Laporte
Associate Director of Utilities for Water Resources and Environmental Quality, Stanford University Utilities Division, Stanford, Calif.

Energy Efficiency in HVAC Systems with Philip Stephens
Director of Facilities Management Services, Carolinas Medical Center NorthEast, Concord, N.C.

Hot Weather Roofing with Clark Neilson
General Repair Coordinator, Clark County School District, Las Vegas

Sustainability Issues on Campus with Ellen Newell
Assistant Director of Grounds Services, Arizona State University

Training the next generation with Bill Warren
Manager of Training and Development, Facilities Engineering and Maintenance, University of Pittsburgh Medical Center

Staff Training Strategies with David McCormick
Director of Operations, Facilities Management Department Massachusetts Institute of Technology, Cambridge, Mass.

CMMS Upgrade Insights from Richard Moore
Director, Division of Facilities and Maintenance Services, Milwaukee Public Schools

Security Technology Advice from Richard W. Robben
Executive Director of Plant Operation, University of Michigan, Ann Arbor, Michigan

How to Approach Your IAQ Upgrade from Dave Hill
Executive Director, Facilities and Operations, Blue Valley School District, Overland Park, Kan.