Building Operating Management magazine created the FMXcellence Recognition Program to acknowledge in-house FM teams that apply best practices and innovation to meet their organization's priorities. If your department has added significant value to your organization by helping to achieve broader goals or by actions that have a broad impact across the organization, we want to hear from you.
Whether it's sustainability, cost cutting, or a construction or renovation project, the in-house FM function plays an important role in achieving results for the organization, whether it is a corporation, educational institution, health care provider, government entity, or another type of commercial or institutional organization. And in-house FM departments that achieve results deserve praise.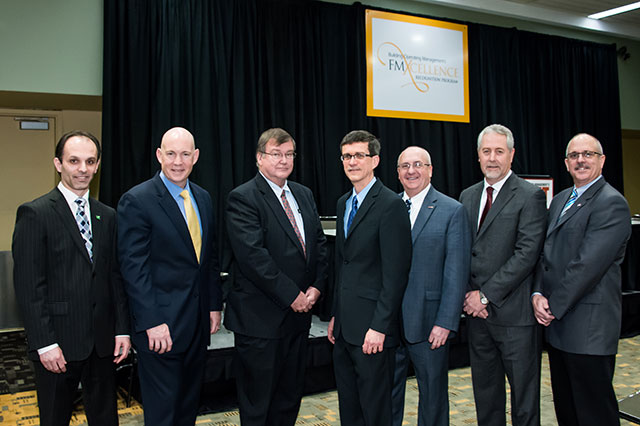 New caption: FMXcellence winners (from left): John Debenedictis, senior manager, retail facilities management, TD Bank Group; John Shea, chief executive officer, division of school facilities, department of education, New York City; Francis Gillis, senior director, housing facilities management, Georgia Tech Department of Housing; Edward Sullivan, editor, Building Operating Management; Sean Delehanty, electronic systems sustainability manager, BAE Systems; Ken Fletcher, deputy division director for facilities, Lawrence Berkeley National Laboratory; and Bob Holesko, vice president of facilities, HEI Hotels & Resorts.

We're looking for ways that FM is adding value. A wide range of FM efforts are eligible for recognition under the FMXcellence program, including:
Sustainability
Project management
Strategic facilities planning
Workplace planning
Cost cutting
Emergency planning
Mission critical support
Occupant satisfaction
Energy efficiency
Construction or renovation
Customer service
Staff development
Safety and security
Capital planning
Communication (e.g. facility newsletter or website)
For a list of FMXcellence honorees, and links to their applications, click here.