Tips for Applying
You can enter either a project or a program for FMXcellence recognition.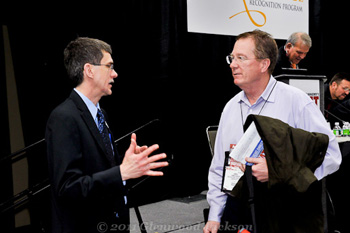 Building Operating Management editor Ed Sullivan speaks with an attendee following the special FMXcellence session at NFMT.
1. If you are entering a program, your application will be stronger if it is clear that the program is more than just a series of loosely connected projects. Consider describing how the program as a whole was developed and reporting the results it has achieved, with individual projects used as examples of the program being implemented. If one of the projects in the program is responsible for most of the results achieved, and is the best example of innovation, best practices and added value, consider entering that by itself.

Do not enter a group of projects that are not part of a program on one application.
2. Projects must be completed to be considered. Both completed and ongoing programs can be submitted.
The more directly that a project or program addresses an explicit organizational goal or has impact beyond the facility department, the stronger the application will be. It is helpful to put savings results in some context — as a percentage of the overall facility or energy budget, for example. It is also helpful to provide a general timeframe for a project or program — the year it started and the year it was finished (if it is a project).
The FMXcellence program recognizes in-house facility departments for innovation, use of best practices and impact on the overall organization. Although FM departments often work with teams that include outside consultants, architects, engineers and other service providers, the application and any supporting materials should emphasize the work of the in-house FM department on the project or program. Remember, the FMXcellence recognition program is designed to honor the work of in-house FM departments.
Apply early — improve your chances
Applications received by the early bird deadline will be reviewed to see if additional material would improve the application's chances for recognition. If so, we will contact you for additional information. See the Deadlines section for due dates.
What are the judges looking for?
A compelling, results-based story that the industry can learn from. Judges will favor a clear, detailed explanation of a project or program where innovation and best practices were used to add value to the organization.
Clear evidence of value added to the organization. For example: How did the project or program align with the organization's goals? How deep was the impact of the project or program within the organization?
The ability to support the program or project with results and data as an example of excellence in facility management. The judges will be looking for concrete evidence of the department's achievements. For energy and water savings, the results must be based on hard data (utility bills or metered results).
It may be helpful to look at past applications, to see level of detail that we often receive. For questions 8 and 9 on the application, a paragraph or two probably won't provide enough information. Click here to see past applications.
Past honorees:
Munich Reinsurance America, Inc., for energy efficiency improvements to support an initiative to reduce the corporation's carbon footprint.
Texas Children's Hospital for building a fully functional outdoor emergency center, in response to a looming public health crisis, in a single 8-hour day.
New York City department of education, division of school facilities, for development of building condition rating system.
TD Bank Group for enterprise green buildings program
University of Illinois for retrocommissioning program.
Hays Independent School District for energy efficiency program.
Smithsonian Institution for development of a strategic FM plan.
PNC Bank for national signage replacement program.
Crouse Hospital for upgrades of the hospital's emergency power and chilled water systems.
A wide variety of completed FM projects and ongoing programs are eligible for FMXcellence consideration. Past FMXcellence honorees range from FM strategic planning to sustainability, from a facility condition evaluation program to a pair of programs to win public support for capital improvement funding, from a one-day vendor conference to a 15-year-long chilled water system upgrade.
Whether it's an effort like one of those or some other in-house facility department initiative — like an organization-wide energy efficiency effort, or innovations in a construction process to meet organizational goals — the bottom line is the same: We're looking for the ways that the in-house facility department is adding value. An organization can submit more than one program or completed project for FMXcellence consideration; one program/project per application. However, an organization can only receive FMXcellence recognition once each year.
All entries will be judged by the editorial staff of Building Operating Management.
If you have any questions, please contact edward.sullivan@tradepress.com.