You Might Like
On FacilitiesNet
« Back to Facilities Management News Home
Standing Desk Recognized for Innovation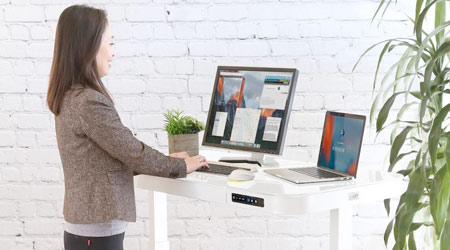 Seville Classics, a supplier of ergonomic standing desks, is excited to announce a new addition to its growing line of AIRLIFT standing desk solutions – the AIRLIFT Tempered Glass Electric Standing Desk. Named an Innovation Awards Honoree, the AIRLIFT Tempered Glass Electric Standing Desk will be on display during CES from January 8-11, 2019 in the Sands, Booth 43531.

Designed with a contemporary, neo-industrial aesthetic that complements modern office environments and homes, the AIRLIFT® Tempered Glass Electric Standing Desk features dual-electric motors that lift the desk from 29 inches to 47 inches high with a simple touch of the AIRLIFT® controller. For a smooth transition, the dual motors adjust the desk top quickly at 1.2 inches per second.

For ease of use, the AIRLIFT Tempered Glass Electric Standing Desk offers a memory feature where users can store up to three height settings for reliable adjustment throughout the day. The desk also includes two USB-A charging ports, with each port supplying 2.4 amps at 5 volts (10 watts) of power for fast charging of high-performance smartphones and digital devices simultaneously.

"We are honored to be recognized by the Consumer Technology Association (CTA) as an Innovation Awards Honoree for our new AIRLIFT Tempered Glass Electric Standing Desk," said Martin C. Avila, Vice President, Seville Classics. "When designing our new standing desk, we focused heavily on providing a premium experience at an even better price point, through offerings like our independently powered charging ports and capacitive touch pad controller. We are excited to introduce our award-winning solution to the discerning, technology-focused audience that CES is known for."

Seville Classics' AIRLIFT Tempered Glass Electric Standing Desk is available in a black, white, or gray frame with a single, large tempered glass work surface in white or black. The desk includes a pull-out storage drawer with a single divider that lets users separate accessories, pens, and markers from larger items like iPads and stationary.
More From 12/14/2018 on FacilitiesNet