« Back to Facilities Management News Home
Pipe-Thawing Machine Prepares Facilities for Winter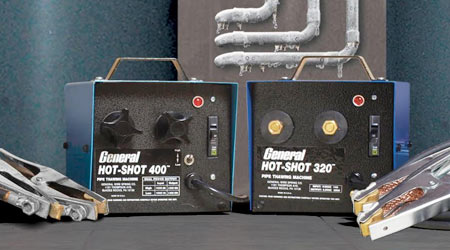 Remember how cold it was last winter? Be ready this winter with General Pipe Cleaners' Hot-Shot 320 and Hot-Shot 400 pipe thawing machines. They thaw pipes in minutes – without tearing up floors, breaking through walls, or digging around pipes in frozen ground.

The Hot-Shot 320 generates 320 amps of thawing power to thaw up to 100 ft. of 1-1/2" pipe – yet weighs just 30 lbs. The powerful Hot-Shot 400 generates 400 amps of thawing power to thaw frozen lines up to 175 ft. long and 1-1/2" in diameter. Stuck on a job with only a 15 amp breaker? The Hot-Shot 400 sports a dual level output so you can switch to the 320 amp output – and pull just 14 amps.

They're easy to use too. Just attach the clamps to the frozen pipe section – and plug the unit into any convenient 115 volt outlet. In a few minutes, the frozen pipe is thawed out. Both machines are compact, feature a heavy gauge steel case, and carry a two year warranty.
More From 10/26/2018 on FacilitiesNet