Roof Withstands Hurricane Winds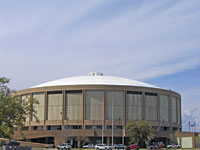 December 9, 2008 - Facilities Management
The Mississippi Coast Coliseum is located in Biloxi, Miss., right on the coast of the Gulf of Mexico and directly in the path of Hurricane Katrina. The Category 4 storm cut a wide swath of destruction, but the Coliseum roof stayed intact.
Though blowing sand and flying debris scoured the roof's protective coating and punctured the spray-applied polyurethane foam (SPF), only a few chunks made it through the three inches of foam into the underlying metal deck to cause a few minor leaks. No part of the roof blew off. The roof and the building weathered the storm so well that it was used as an emergency shelter in the days immediately following the storm.
Built in 1977, the 24,780-square-foot domed stadium has had an SPF roof since its original construction. Its roof has survived more than 176 recorded days of severe weather in its 30 years of service — an average of almost six days each year. SPF roofing adheres to the roof deck and penetrations with no fasteners. Lightweight and monolithic, it has no joints or edges to catch the wind.
During the post-storm recovery period, an assessment of the damage to the coliseum's roof was conducted. Repairs consisted of removing one-half-inch of the original polyurethane foam and applying a fresh coat of one-inch thick Elastospray SPF. The project was completed with a Neogard Permathane II FR protective coating membrane.
---
Comments