Cooling System Retrofit Yields Big Savings for the World's Largest Marriott Resort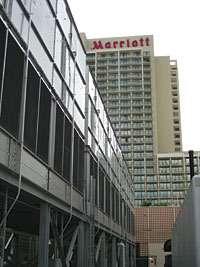 December 9, 2008 - Energy Efficiency
The Orlando World Center Marriott, the largest Marriott resort center in the world, has 450,000 square feet of event space, 2,000 guest rooms and 110 suites, 10 restaurants and lounges and a full service spa and fitness center, among other amenities.
After a thorough assessment of its 23-year-old chiller plant, it was found that the existing forced draft cooling towers were inefficient, deteriorating and undersized for the humid Orlando conditions. The condenser water pumps previously required manual priming at startup and the chillers were candidates for a retrofit with variable speed drives. To serve the needs of the massive facility, a $1.9 million chiller plant renovation was undertaken.
Three new stainless steel cooling towers have increased the facility's cooling capacity by approximately 300 nominal tons. Replacing the old cooling towers with new induced-draft style cooling towers reduced the connected electrical load to the cooling tower fans by more than 400 horsepower. The cooling towers and steel support structures were replaced individually to keep two of the three towers in service at all times, ensuring uninterrupted service.
Variable speed drives were installed on each of the nine cooling tower fans and the two main 1,200-ton chillers. The chillers were rebuilt and converted to HFC-134a refrigerant, and the impellers were upgraded to a larger size to increase the mass flow of refrigerant and restore the original chiller capacity.
A Carrier Comfort Network (CCN) direct digital control automation system will monitor and control the new chillers, cooling towers and tower fan drives. A CCN WebII Web browser will provide intranet and Internet access.
While initial energy savings estimates were $310,000 annually, the hotel is currently achieving significantly higher savings. According to Jeffrey Plutz, director of engineering and resort facilities at the Orlando World Center Marriott, the hotel saved approximately $225,000 in the first quarter of 2008.
The operating cost savings have primarily come from the variable speed drives on the two main chillers and the cooling tower fans, condenser water temperature relief, reduced horsepower on the cooling tower fans and the chiller plant optimization through the CCN controls system.

---
Comments