Acoustical Ceiling System Earns High Marks at Rhode Island School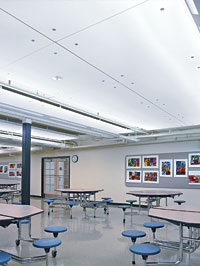 December 9, 2008 - Ceilings, Furniture & Walls
The 2,400-square-foot multi-purpose cafeteria at St. Michael's Country Day School in Newport, R.I., suffered acoustically from both high reverberation time and high levels of background noise. The reason: The cafeteria's exposed concrete ceiling deck, drywall walls, vinyl on concrete floor, and wood and glass doors offered little acoustic control of lunchtime noise.
To help improve acoustics within the space, the school looked into different solutions, from hanging baffles from the 9-foot-high deck to putting up partitions to help absorb the noise. After reviewing various options, school officials decided to install an Optima Capz ceiling system from Armstrong Commercial Ceilings and Floors, an acoustical ceiling system that provides sound absorption properties while maintaining the look and feel of exposed structure designs.
The system is suited for both new construction and retrofit of existing spaces, especially open plenum spaces in which HVAC, plumbing and other building service lines are exposed, which was the case at St. Michael's. Installation is simplified with a bolt-cap system that provides downward accessibility after installation.
The panels can be installed directly to the deck above to maximize ceiling height, onto drywall, or suspended with wires. At St. Michael's, 35 4-by-4-foot panels were installed 4 inches from the concrete deck in long runs between ribbons of linear light fixtures.
Aesthetically, the panels' fine-textured surface helped impart a more finished look to the space. Acoustical testing showed that even though they only covered 23 percent of the ceiling area, the added sound absorption provided by the panels reduced reverberation time 55 percent. The ceiling panels feature a noise reduction coefficient of 0.90.
The panels also lowered the unoccupied background noise level by 3 decibels. And, because students did not have to compete as much with neighboring conversations, they spoke more softly, resulting in a decrease of 5 decibels in the occupied background noise level.
---
Comments