A Green Jewel on a Green Campus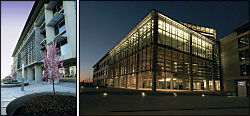 The 180,000-square-foot Leo & Dottie Kolligian Library was the first building to be completed at the University of California-Merced. It is certified at the LEED Gold level.
October 8, 2008 - Green
The road from conception to opening has been long and winding for the University of California-Merced. First approved by the regents of the University of California in 1988, UC-Merced officially opened with its first class of undergraduates on Sept. 5, 2005, the first new UC campus in 40 years. But even at that point, hardly any campus buildings were finished, so most classes were held in the first, and at the time only, academic building to be completed: the Leo & Dottie Kolligian Library. Earlier this year, the library received LEED Gold certification, consistent with UC-Merced's goal that every building on campus have at least a LEED Silver certification. Currently, the campus has five LEED-certified buildings.
The 180,000-square-foot facility, which houses the campus library, administrative offices, classrooms, a coffee bar, the bookstore and a large student lounge, is a model of energy and water efficiency.
The library is designed to be much more energy efficient than Title 24 — California's energy code. Variable volume air handling helps the HVAC system operate at maximum efficiency. Occupancy sensors and photocell dimming in the library perimeter zones reduce unnecessary lighting energy. Solar glazing and a cool roof cut heat gain into the building. Additionally, all exterior walls are cast-in-place concrete with gypsum-board-over-insulated-metal framing, separating the outside concrete walls from interior spaces.
The facility consumes less water than a typical building by using waterless urinals and low-flow lavatory, shower and other fixtures.
Designers used sealants, adhesives, paints, flooring and composite wood with reduced or no VOC emissions to meet the requirements of Green Seal, CRI Green Label, SCAQMD Rule 1168, and Bay Area Air Quality Management District Regulation 8, Rule 51.
Contractors diverted more than 75 percent of the construction waste, earning two points for construction waste management.
---
Comments