Facility Manager Cost Saving/Best Practice Quick Reads RSS Feed
Bacterial Spread Higher With Hand Dryers: Study
September 27, 2018 - Contact FacilitiesNet Editorial Staff »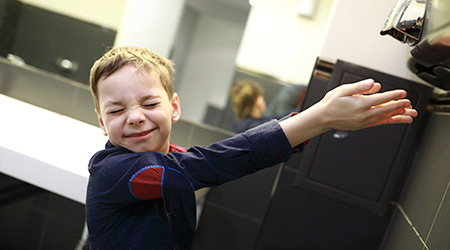 Jet-air hand dryers spread antibiotic-resistant bacteria more than paper towels used to dry hands, perhaps making them unsuitable for use in clinical environments involving people with weakened immune systems, according to a recent study in the Journal of Hospital Infection.

Researchers from the University of Leeds studied two restrooms in each of three hospitals in the United Kingdom, France and Italy. Each restroom featured paper towel dispensers and jet-air hand dryers. During the 12-week study, researchers conducted 120 sampling sessions, measuring bacteria levels on commonly touched restroom surfaces.

These included sinks, floors, door, and the outside of the dryer and dispenser. They also sampled levels of airborne bacteria and dust in the restrooms. During the testing, either the dryers were turned off while paper towels were available, or paper towels were removed from the dispensers while the hand dryers were operational. The Leeds study was funded by the European Tissue Symposium.

The study found significantly higher levels of bacteria on the floors and exteriors of the hand dryer when only the jet-air hand dryer was available. Bacteria counts also were generally higher across the other sampling areas when jet-air hand dryers were used. Since the sampling took place after the restrooms had been unoccupied for several minutes, researchers theorized that ambient bacteria levels would have been much higher had they been sampled while the dryers were operating.

Researchers say poor hand-washing habits, coupled with the high shearing forces of jet-air hand dryers, might combine to spread bacteria, whereas paper towels absorb and contain bacteria. Many facilities already use jet-air hand dryers, due to cost and energy savings, but facility managers might be able to take steps to mitigate their potentially harmful effects if removal is not desired or possible.

During flu season, it might make sense to disable the dryers and only provide paper towels, for example. It also might make sense to increase restroom cleaning frequency during flu seasons or other contagion outbreaks.

Managers also might explore other technologies to mitigate bacterial concerns. For example, several lighting manufacturers now offer visible light disinfection systems, as well as existing UV disinfection technologies for use after hours.

This Quick Read was submitted by Naomi Millán, senior editor, Building Operating Management.
---
Comments