« Back to Facilities Management Health Care Facilities Category Home
5 Things to Know About UVC Light Disinfection
April 8, 2016 - Health Care Facilities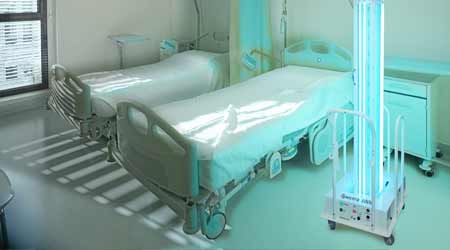 By Dennis Boyle, President, Spectra254

Within the last few years, UVC light disinfection has become a popular and effective way to decrease the transmission of bacteria, viruses and other pathogens in institutional and commercial facilities. Why is UVC light disinfection gaining in popularity, particularly in the healthcare market? Here are five pertinent facts about UVC light disinfection, covering its application, efficacy and implementation.

1. 99.9 Percent Effective. Studies performed by several independent laboratories and healthcare facilities show that UVC light disinfection systems are highly effective. How effective are they? Some studies show they are greater than 99.9 percent effective at killing deadly and dangerous pathogens, including C. difficile, MRSA, HIV, CRE and an Ebola virus surrogate. Any good UVC disinfection system is reliable and produces repeatable results, every time it is used. This reliability of effectiveness is another positive for UVC disinfection.

2. Easy to Use. Most UVC systems are easy to use and an operator can receive one training session and be fully equipped to operate the system. Most devices also contain a motion detection sensor to ensure that rooms are empty before disinfection treatment begins. Some UVC systems may also come with a remote control, which can be used to activate devices through glass, eliminating the need for the operator to be in the room to turn on the system or to wear or use special equipment for protection from the disinfection. UVC light treatment is also fast, effective in as little as five minutes, depending on the strength of the bulbs and the size of the space.

3. High ROI. With UVC disinfection, there are very few recurring costs associated with operation — test strips and replacement germicidal light bulbs are typically the only recurring costs. Most devices come with warranties, some of which may also include bulb replacement. In addition, many UVC decontamination systems are mobile and can be easily moved from room to room for use in multiple departments or facilities. Another major factor to consider is the cost of treating infections, which has risen by an estimated 30 percent. Decreasing infection rates can reduce readmissions and may also affect reimbursement rates.

4. Complementary to Chemical Cleaning. Staff members at facilities often clean surfaces such as tables and floors with chemical cleaners and then use UVC light disinfection after chemical cleaning. This is because UVC light can disinfect surfaces and the air, but it cannot penetrate past the first layer of a substance. For optimal results, UVC light disinfection should be used in addition to chemical cleaning. When combining chemical cleaning with UVC light disinfection application, disinfection rates improve tremendously.

5. How It Works. Ultraviolet C light is a short-wavelength light that can kill microorganisms by disrupting their DNA, making them incapable of reproduction and harmless. UVC light decontamination devices use high output UVC lamps to emit a constant dosage of UVC light. The UVC light in decontamination devices is created by using a germicidal lamp, which is similar to a fluorescent overhead light.

Thanks to ultraviolet-C light, UVC light decontamination is an effective, fast, cost-effective and safe way to reduce pathogens found in many healthcare settings. As many facilities managers are finding out, it's a valuable way to help keep people safe from healthcare-associated infections, viruses and bacteria as this continues to be a concern in all healthcare settings.

Dennis Boyle has more than 25 years of experience in the medical device industry. He has worked at Siemens AG, where he managed a $100MM lab business, and has held executive leadership roles at companies such as Exalenz Bioscience and MedTest. Dennis first served as Spectra254's Vice President of Global Customer Management, responsible for establishing global distribution agreements in targeted international markets, and establishing GPO and distribution agreements in the United States. In his current role as Spectra254's President, Dennis manages the company's global presence and sales. He holds a B.A. in economics from Middlebury College, as well as graduate degrees in business administration and business education from Southern New Hampshire University.
posted on 4/8/2016