Facility Manager Cost Saving/Best Practice Quick Reads RSS Feed
Milwaukee Tool Introduces Cordless Drain Cleaning, Outdoor Power Tools
June 13, 2016 - Contact FacilitiesNet Editorial Staff »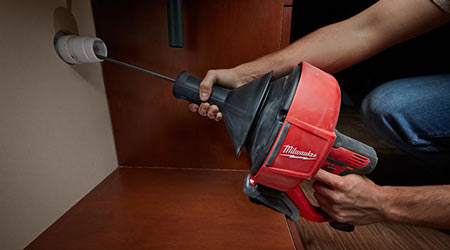 Milwaukee Tool unveiled more than 400 new items set for launch in 2016 and early 2017 during its new product symposium last week in Milwaukee.

Facility Maintenance Decisions magazine was among the trade publications invited to attend the ninth annual event, which gives editors opportunities to sample items as well as ask Milwaukee product managers questions about the tools and the industry.

Among the more interesting nuggets of information that maintenance and engineering managers at institutional and commercial facilities will likely find interesting:

Drain cleaning products. Milwaukee entered the drain cleaning industry with the M12 Drain Snake, a cordless machine that can clear small drain lines up to 25 feet in length with 1/4-inch or 5/16-inch cables. For tips on planning an efficient drain-cleaning program, click here.

"The simple cordless setup of the M12 Drain Snake frees users from the hassle of wrestling with cords, carrying extension cords, or spending time looking for outlets — allowing them to get back to the job at hand," says Corey Dickert, vice president of product management — plumbing and electrical.

The handheld unit weighs 10 pounds and allows for easier use overhead, below the waist and in confined spaces. The snakes are available now and the launch also includes a line of drain cables that also are compatible with other commercial drain cleaning machines.

Outdoor power equipment. Milwaukee announced its entry into the outdoor power equipment industry with the unveiling of three new products as part of its M18 Fuel cordless line.

The outdoor products — scheduled to be released in January 2017 — include a string trimmer, hedge trimmer and blower. Plans are also in the works to eventually include a cordless chain saw.

Strategic Maintenance Tips for Grounds Care Equipment

One-Key updates. Milwaukee added the Sawzall cordless reciprocating saw to its One-Key platform, which tracks and manages the location and use of tools through an app-based system.

Milwaukee launched One-Key in 2015, and this year announced upgrades to the system that include improved tool customization features to help manage output and extend life span. The technology also helps to track tool location so that users can identify where and when a tool was last used. Additional upgrades to the system include the ability to lock a tool remotely when not in use to prevent operation by children or untrained workers and stopping thieves from using the tools after stealing them.

This quick read was submitted by Dave Lubach, associate editor for Facility Maintenance Decisions. Reach him at dave.lubach@tradepress.com.
---
Comments