Facility Manager Cost Saving/Best Practice Quick Reads RSS Feed
Use Of Wireless For BAS Is Growing
June 13, 2016 - Contact FacilitiesNet Editorial Staff »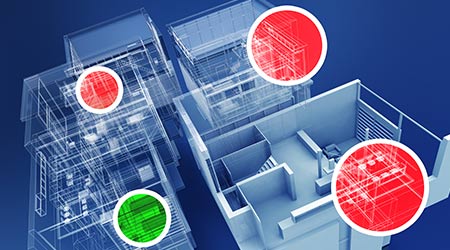 A key component when designing high-efficiency buildings is the ability to measure, monitor, and control building systems such as HVAC, lighting, security/access control, and fire life safety. By monitoring building systems, owners and operators can customize and control the systems' expenditure and usage and potentially reduce a building's total energy consumption by 5 to 15 percent annually. This is a reason why more than half of U.S. buildings larger than 100,000 square feet have building automation systems (BAS) installed.

The BAS can be wired, wireless, or a combination of both. Nowadays, since many BAS manufacturers are using a combination of both wired and wireless, designers should make provisions for both networks. Although there are different wireless technologies employed in the BAS market today (WiFi, ZigBee, and EnOcean), WiFi is growing rapidly due to the higher bandwidth capacity and the ease with which an owner/operator can leverage an existing WiFi network to run multiple applications.

What's more, business applications now often rely on wireless networks, so network downtime affects not only wireless building automation, but also devices like individual smartphones, which have become key to user productivity. At this point, it's imperative to provide a reliable wireless network, which requires proper planning, testing, and commissioning.

Another factor to consider: Because most emergency calls are originated by cell phones, which rely on wireless service provided (WSP) networks, it is crucial that all buildings have RF coverage for safety reasons. Recent initiatives by the National Fire Protection Association (NFPA) and the International Code Council (ICC) are requiring RF coverage within buildings for public safety. More than 150 municipalities across country are mandating public safety coverage inside large buildings. The code amendment has generated a push within the architect/engineer/construction community to take a closer look to at all buildings to ensure RF compliance for public safety services.

This quick read is from Gislene D. Weig, electrical engineer, RCDD, is a senior consultant at PlanNet Consulting. Read more from them about wireless technology.
---
Comments