You Might Like
On FacilitiesNet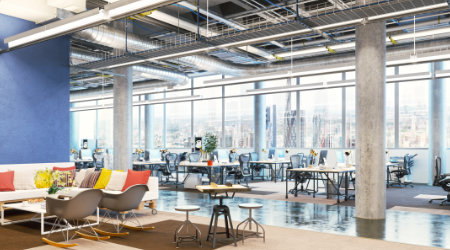 Office Updates and Renovations Might Be Smaller Than Anticipated
Speculation is rampant about what workers returning to institutional and commercial facilities will find. Fewer cubicles? More open floor plans? Operable windows? As facility managers begin the process of reopening their buildings — haltingly, given the surge in new cases of COVID-19 caused by the delta variant — the changes workers are anticipating might not be as widespread as anticipated.
Despite a surge in new COVID-19 cases and low vaccination rates, many big metro Atlanta employers hope to bring most staff back to offices this fall after more than a year of remote work, according to The Atlanta Journal-Constitution. The offices that employees left might be different when they return — but probably not much different.
Most U.S. clients of commercial real estate firm CBRE have asked for help devising new long-range strategies for their office space needs, said CBRE's Lenny Beaudoin, a New York-based managing director.
But most have yet to pull the trigger on major changes, instead playing a waiting game to see how big they need to go and what the future should look like. Instead, small additions and minor adjustments have been the norm, like adding more hand-sanitizing stations or installing foot pedals on bathroom doors.
Many employers are still "in the wait-and-see category," said Erin Greer, an interior designer in the Atlanta office of design firm Gensler.
About 39 percent of U.S. office construction activity through the first six months of this year involved renovations instead of new construction, only slightly higher than the 10-year average of 37 percent, according to Dodge Data & Analytics.
Dan Hounsell is Senior Editor, Facility Market.
---