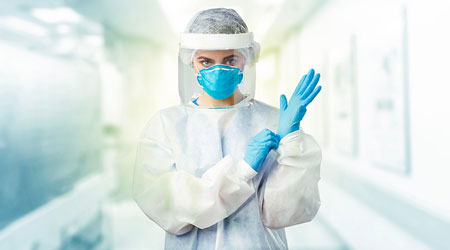 CDC To Invest $2.1 Billion in Infection Prevention in Facilities
The Centers for Disease Control and Prevention (CDC) will invest $2.1 billion to improve infection prevention and control activities across the U.S. public health and healthcare sectors. The American Rescue Plan aims to strengthen and equip state, local, and territorial public health departments and other partner organizations with the resources needed to better fight infections in U.S. healthcare facilities, including COVID-19 and other known and emerging infectious diseases.
The funding will assist healthcare personnel to prevent infections more effectively in healthcare settings, support rapid response to detect and contain infectious organisms, enhance laboratory capacity, and engage in innovation targeted at combating infectious disease threats. Improvements in infection prevention will span the healthcare continuum, including 6,000 hospitals, 15,400 nursing homes and other long-term care facilities, 7,900 dialysis clinics, and 4,700 ambulatory surgery centers, and it will extend to other outpatient settings.
Over the next three years, CDC will issue $1.25 billion of the total to 64 state, local, and territorial health departments to support this work. Initial awards totaling $885 million will be made in October 2021 to these jurisdictional health departments. CDC will use most of this initial funding in October, $500 million, to support a new force in the fight against COVID-19 to protect our most disproportionately affected population.
Funding for state-based nursing home and long-term care strike teams will allow state and other jurisdictional health departments to staff, train, and deploy strike teams to assist skilled nursing facilities, nursing homes, and other long-term care facilities with known or suspected COVID-19 outbreaks. The strike teams will allow jurisdictions to provide surge capacity to facilities for clinical services; address staffing shortages at facilities; and strengthen infection prevention and control activities to prevent, detect, and contain outbreaks, including support for COVID-19 vaccine boosters.
The remaining $385 million to be awarded in October 2021 will go to state, local, and territorial health departments to strengthen critical areas, including state capacity to prevent, detect, and contain infectious disease threats across healthcare settings. CDC will provide infection prevention and control assistance to public health departments to work with healthcare facilities to improve the quality of healthcare; strengthen interventions for the prevention and containment of infectious diseases to minimize the spread of infection in a variety of healthcare settings; identify, address, and monitor healthcare-related disparities and health equity; and increase capacity to investigate outbreaks of healthcare-associated infections.
Dan Hounsell is senior editor, facility market.
---