COVID Safety: How to Create Contactless Office Space
A recent case study shows how contactless technologies play a key role in getting occupants back to in-person work safely.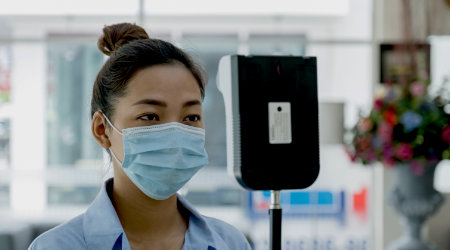 When it comes to workplace trends, if 2020 was the year of remote work, 2021 is the year of returning to in-person work. Though employers are handling the return differently, one survey of 350 business leaders found that 70 percent plan to have employees back in the office in some fashion by the fall of this year.
For employers, this decision wasn't made in a vacuum. Many employee surveys, roundtables with leadership, and facilities evaluations preceded their decision on the best methods to bring employees back in person. Employee satisfaction, workplace productivity, and employee and visitor safety are all important factors to consider when deciding when to bring employees back. Of the three, the factor that employers have the most control over, and arguably the most important, is employee and visitor safety.
While many facilities managers were already taking advantage of contactless technologies like air filtration and HVAC controls, ultraviolet (UV) lighting modifications, A/V solutions, touch-free bathrooms, and sign-in kiosks for visitors with mobile integration, the last year pushed those technologies from the "nice to have" to the "must-have" list. With the need to ensure the health and safety of workers at an all-time high, commercial facility managers are seeking out these technologies in record numbers.
One example of this is at the downtown Chicago Blue Cross Blue Shield of Illinois (BCBSIL) building. Pre-COVID, BCBSIL estimated that over 5,000 people were going through its turnstiles each day. Once the virus hit, that number decreased to about 50 people daily. At that time, the real estate division at BCBSIL decided to take proactive measures to make the 54-story building safer.
With its electrical contractor partners, BCBSIL began a project to install temperature reading scanners and to upgrade their card access system, making it touchless. With the new touchless technologies now operational and mandatory COVID-19 precautions lifted in Chicago, BCBSIL facilities managers are resting easy knowing they've done what they can to ensure a healthy and safe return to in-person work.
Though the necessity of facilities upgrades will depend on several factors, including the building's current infrastructure and the number of daily visitors, the CDC's guidance for businesses and employers responding to COVID-19 recommends improving central air filtration to as high as possible and using UV germicidal irradiation as a supplement to help inactivate COVID-19, especially if options for increasing room ventilation are limited. Though this guidance is simply a recommendation, it's another sign that it's a good time for facilities managers to consider new contactless technologies.
We know that COVID will likely never go away completely. And it's not just the coronavirus that makes these technologies valuable. With healthcare experts warning of a catastrophic winter flu season, contactless technologies will continue to have a place in improving public health for the foreseeable future. For business owners and facilities managers, these improvements are investments in your biggest asset — your people.
Elbert Walters III is the Executive Director of Powering Chicago, an electrical industry labor-management partnership that invests in consistently better construction, better careers and better communities within the metro Chicago region. The organization and its partners has created the Contactless Office E-Book, which offers access to insights from experts in the unionized electrical industry about contactless technology modifications, arming business owners with information about the latest technological modifications to increase workplace safety.
---
---
---
Related Topics:
Comments