You Might Like
On FacilitiesNet
Fault Detection and Diagnostics Creates Savings Opportunities for University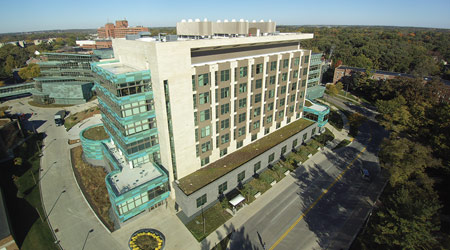 February 7, 2020 - Software
The University of Iowa (UI) covers 165 major buildings serving nearly 33,000 students and more than 24,000 faculty and staff. UI's facilities team has complex and unique building systems across campus. The team was tasked with managing a large influx of data from multiple systems. In order to prioritize and streamline their workflow, the university looked for a tool to automate task management, fault detection, and building systems analytics that would also allow for customization.
In 2017, UI implemented fault detection and diagnostics (FDD) software at 20 buildings to help them move from reactive to planned and predictive facility operations. The university selected Schneider Electric's EcoStruxure Building Advisor. The solution includes the latest FDD, advanced analytics, task and project management functions, and performance trending and diagnostics, along with expert guidance and actionable information.
UI leveraged a service provider to set up the FDD software analytics and map data point connections within their building automation systems (BAS). The FDD installation went smoothly, taking 3 months to get analytics running with relatively little involvement from campus staff.
UI's FDD software analyzes 49,000 points at 5-minute intervals, pulling data from four different BAS. With support from vendors, UI has integrated their FDD system outputs with their computerized maintenance management system (CMMS). Through this process, they track work orders generated by the FDD and monitor fault resolution.
Rather than view faults as a failure of their maintenance process, UI has the mindset that faults will always arise, and they plan to catch them with aid of their FDD tool. Faults detected through FDD are generally not the type needing immediate attention, but rather are issues that allow for planned and scheduled maintenance. UI's analytic response group meets each morning to prioritize, plan, and coordinate the response to the FDD software's recommendations.
UI's efforts have brought 9 percent average energy savings since the installation of the FDD tool. Additionally, the four buildings with the most focused efforts achieved 13 percent to 24 percent savings since implementing the FDD response process. In the first year of the project, the university realized energy savings of $900,000. In 2018, the university onboarded 29 more buildings with FDD.
---
Comments