You Might Like
On FacilitiesNet
Custom Glass Mast Car Tops Off Empire State Building Modernization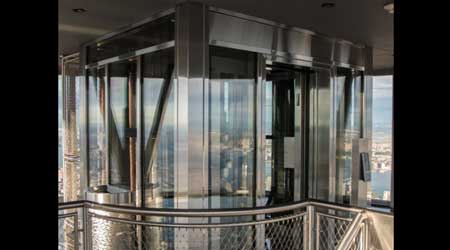 December 12, 2019 - Elevators
In 1931, Otis engineered and installed the Empire State Building's original elevators — the fastest and most advanced of their day. Eighty years later, Empire State Realty Trust entrusted Otis with the system's modernization.
A custom-made glass elevator was designed to carry visitors to the Empire State Building's newly renovated 102nd floor Observatory. Now entirely enclosed in floor-to-ceiling windows, the Observatory provides 360-degree views of New York City and beyond. The Otis Gen2 unit with steel-reinforced flat belts in place of conventional steel cables delivers a smooth, quiet ride.
As passengers travel between the 86th and 102nd floors in the glass elevator, they'll enjoy a light show projected onto the hoistway wall as a curated soundtrack plays inside the cab. The 102nd floor landing also includes glass hoistway walls that heighten the sense of being in a glass dome at the top of the world.
The modernization, which began in 2011, also saves time and energy. With Otis ReGen drive regenerative technology, the modernized elevator system uses 50 to 75 percent less energy than the original system. Regenerative technology captures energy that would otherwise be wasted as heat and returns it to the building's power grid for use by other systems. Otis' CompassPlus intelligent dispatching technology gets passengers to their destination 50 percent faster during peak travel periods than the original system.
Today, the building's elevators safely transport 10 million tenants, guests, and visitors each year. Otis field professionals are onsite 24/7 at the Empire State Building to support the safe, smooth operation of the building's elevators and escalators.
---
Comments