You Might Like
On FacilitiesNet
A Symphony of Light Enlivens Iowa School of Music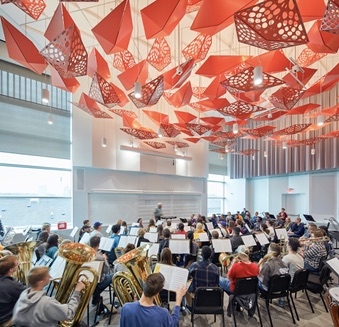 November 28, 2019 - Lighting
In 2008, Hurricane Michael caused a disastrous flood in Iowa. The hurricane completely flooded the ground floor of the 200,00-square-foot Voxman Music Building at the University of Iowa in Iowa City. There was considerable damage to the entire building, as well.
Once the hurricane had passed, school leadership knew that they had to completely relocate as well as redo the entire building to better fit the needs of its student body. Their goal was to breathe life back into the Voxman Building through a unique design that would help inspire students as they ready for performances.
The Voxman Building was envisioned to be a concrete structure that would resemble a bento box in which simple tones and a minimal color palette would be used. The rehearsal spaces were meant to be spaces of inspiration that also offered the most optimal lighting conditions for students to read sheet music and practice. In each rehearsal space there are sculptural kites hanging from the ceiling that are designed to swarm and cluster to assist with the room's acoustical properties.
The lighting that was to be interwoven into the space needed to highlight the architecture and help elevate the rehearsal spaces that would bring inspiration to students. USAI Lighting's BeveLED 2.1 Color Select fixtures were incorporated into these spaces because of their high intensity and strong uniformity. Another critical element that these fixtures provided is hardware that wouldn't be affected by the constant and intense sound waves produced in the rooms by student performers.
With a sleek design, USAI BeveLED 2.1 fixtures' offered precise lighting conditions that brought the Voxman building to life unlike ever before.
---
Comments