You Might Like
On FacilitiesNet
Lighting Is Anything but Corporate at Microsoft Technology Center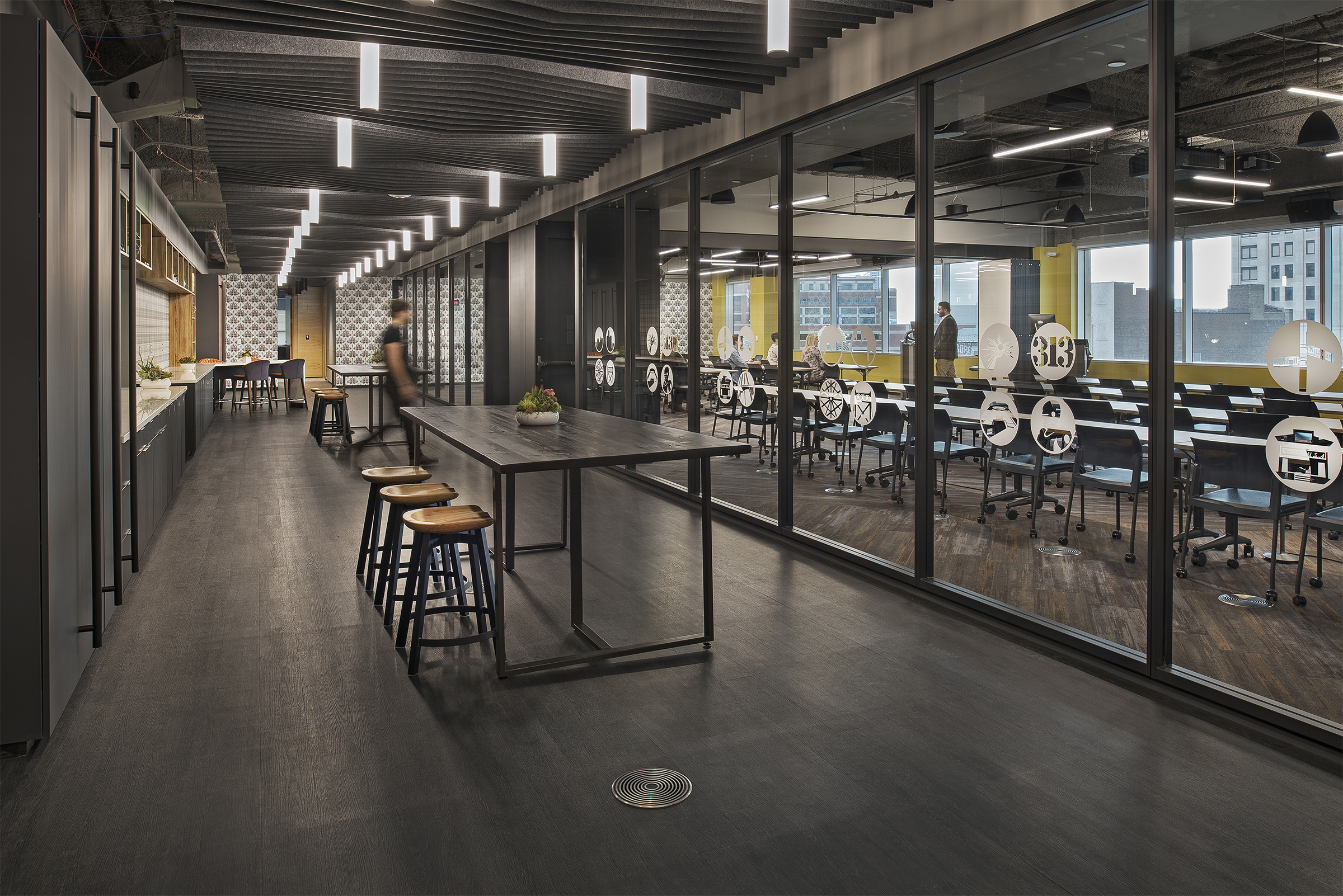 November 21, 2019 - Lighting
Microsoft recently moved its regional technology and training center from Southfield, Mich., to downtown Detroit's central business district, taking advantage of that area's growing tech hub. It occupies the 5th floor of One Campus Martius in a 45,000 square foot space.
The space is anchored by three informal gathering areas and wide-open corridors. A hospitality aesthetic combines commercial design elements and furniture, area rugs, and wall elements traditionally associated with residential design.
Lighting in the common spaces and corridors is intended to set a calming mood, contributing to the hospitality feel. Luminis' Syrios SY606 pendant, with both an up and downlight, was selected as the predominant fixture throughout these areas. The desire was for a luminaire that disappeared into the space yet still had a strong industrial feel to it to match the high exposed ceilings. The uplight delivers a distinctive glow on the exposed ceiling to highlight the expanse, while the downlight pushes light to the individual work spaces, task areas, and walkways. The black exterior finish of the fixture blends into the dark ceilings and duct work.
In the kitchenette area adjacent to a training room, the contemporary Lumistik CL322 cylindrical pendant with a 3-inch diameter and a diffused acrylic lens was used to provide the right combination of ambient light and aesthetics. Thirty pendants form two striking rows down the length of the space, interspersed with acoustic ceiling accents that emulate a wave. The training room is more functional and corporate in its design, so the break area provides a contrast and enabled users to shift their perspective.
Luminis SY310 surface mount fixtures and SY305 pendants are located in the server display areas and Executive Briefing Center service counter and vestibules.
---
Comments