« Back to Facilities Management News Home
Wireless Window Shades and Occupant Comfort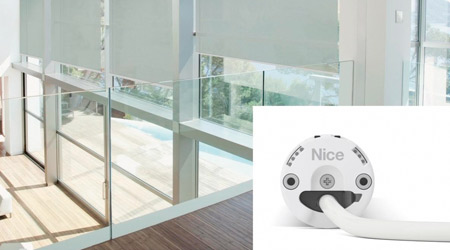 The Nice Group USA introduces the new Era Inn Bi-Directional RF Motor— offering wireless communication, with feedback.

This tubular motor is for use with blinds, shades, and screens in interior applications. The Bi- Directional RF Era Inn Edge motor can easily be used with a bi-directional wall switch or transmitter to effectively operate your window treatments while providing motor status and confirmation that the motor has received the command. As well, the new Bi-Directional motor has improved range thanks to mesh technology.

For applications that require integration with other devices or another home automation system, the Bi-Directional Era Inn Edge product can be paired with Nice's Building Management System to provide easy motor set-up. Using a laptop or tablet and Nice's configuration tool, setting limits, speeds, ramp up and down times, groups, scenarios and more, was never easier. Plus, with the new Edge motor's Bi-Directional wireless mesh operation extracting motor status and diagnostic information is readily available.
More From 12/3/2018 on FacilitiesNet