« Back to Facilities Management News Home
Water-Resistant Wall Panels Enhance Sanitation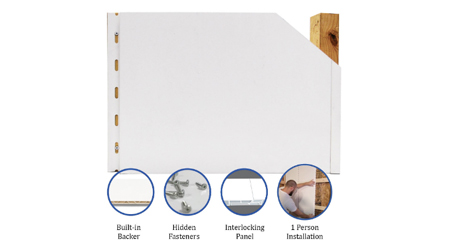 In many facilities that process food, animals, or agriculture, a high sanitary standard is required and maintained. Many wall surfaces contain rough textures, pores, and seams that attract bacteria, dirt, and even mold. If left unchecked, product, employees, and operations can be affected. The amount of time focused on daily maintenance can be significant and choosing the right building material can make the difference.

Introducing Duramax Trusscore's complete walling solution. A smooth, moisture-resistant, sanitary finish that is easy to install, clean, and maintain.

Duramax Panels does not require OSB backer, adhesive, or rivets which essentially save half the material. Duramax panels never absorb water, peel, or form mold so they last a lifetime and never need replacement.


Meets FDA, USDA and CFIA requirements for walls and ceilings
Class A Fire rating
Anti-mold and anti-bacteria
Chemical resistant
Lifetime warranty
ASTM D4226-16 tested up to 252 in-lbs
Seamless surface, easy to clean
More From 11/20/2018 on FacilitiesNet