« Back to Facilities Management News Home
Wall Coverings Target Durability and Variety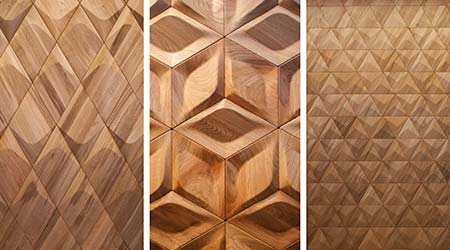 Recent trends in materials used for textured wallcoverings and ceilings offer a new and unexpected element to any interior space, making it simple to mask cosmetic flaws or outdated popcorn finishes. Staying current with this texture trend in contemporary design is Havwoods International. This supplier has recently launched two new wall-cladding collections—3D Wood Wall Tiles collection and the 3D Cork Wall collection.

Playing with light and shade, the new 3D Wood Tiles Collection is a beautiful wall cladding solution made from natural wood. The decorative, three dimensional tiles are an amazingly versatile design material offering stunning textures, innovative dimensionality, and visual effects. Offering a lively burst of geometric design, Havwoods' 3D Wood Wall Tile collection features three different shapes—Calais HRC3005, Chione HRC3000, and Zetes HRC3010—all of which warm and add lively burst of geometric design to any interior space.

Offering an eco-friendly approach and appealing aesthetic to interior spaces is Havwoods' 3D Cork collection. Cork, which grows mainly from the outer bark of the cork oak tree in the Mediterranean region, can be harvested from the same tree for around 200 years making it an environmentally friendly, renewable and sustainable surface choice. Additionally, cork is also a natural sound and heat insulator, while also being dust, bacteria and fungus repellant. Above you will find Havwoods' Skifer Cork tiles, a surface cladding that features a highly textured, raise-pattern finish designed to add interest to any type of environment—residential, workplace, retail, hospitality, education, healthcare, wellness and others.

The 3D Cork collection also includes three signature tiles—Giza, Reyes, and Modo—(below) that are offered in two sizes of 150 x 150mm and 300 x 300mm and three colors to allow for imaginative formats and patterns to be created with ease.
More From 6/19/2019 on FacilitiesNet