« Back to Facilities Management News Home
Sectional Machine Targets Drain Cleaning Versatility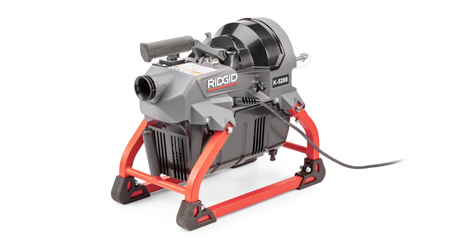 RIDGID announces the K-5208 Sectional Machine. Weighing 30 percent less than the RIDGID K-1500 Sectional Machine, the K-5208 is purpose-built to cut through the toughest roots with a 3⁄4 HP motor and cable that can spin up to 700 RPM. Designed for drains 2" to 8" in diameter, it features a tool-less clutch adjustment to quickly switch between 7/8" to 1 1⁄4" cable sizes. It comes with a new Trident Sectional Cable Decoupler for disconnecting cables efficiently and cable feeder with guide tube for easy loading and unloading into an enclosed cable carrier. Infield clutch serviceability minimizes downtime, while a carrying handle allows for easy transport from truck to jobsite.

Designed with high-strength square steel tubing and rubber feet for enhanced stability, the K-5208 includes an innovative fluid management system that incorporates a reservoir to catch fluid for later draining. The enclosed cable carrier and cable feeder also enhance cleanliness by reducing exposure of the cables on the jobsite.

"The RIDGID K-5208 Sectional Machine has been thoughtfully designed from top-to-bottom based on feedback from professional plumbers who demanded a more powerful and portable option," said Wyatt Kilmartin, vice president and general manager, global underground technologies, RIDGID. "This new machine is lighter and cleaner with go-everywhere power."

The K-5208 and other RIDGID drain cleaners are built at the RIDGID plant in Orange, Virginia and include the RIDGID Lifetime Warranty.
More From 1/29/2019 on FacilitiesNet