« Back to Facilities Management News Home
Rooftop HVAC Units Target Enhanced Efficiency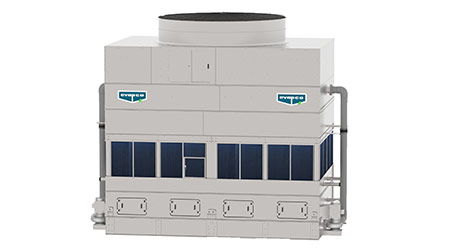 EVAPCO has introduced the newest addition to its ESW closed-circuit evaporative cooler line, the single cell, 14-foot by 22-foot "Big Box" ESW4 – now with up to 40 percent higher capacity than the 12-foot by 18-foot ESWB. The ESW4 is offered in more than 130 models with capacities between 270 to 670 nominal tons, and with fan motor sizes of 20 to 100 HP.

The new ESW4 was designed to provide optimal capacity and energy efficiency in EVAPCO's single, largest closed-circuit cooler cell. With its CrossCool TM internal tube configuration and patented Sensi-Coil elliptical tube design, the ESW4 provides equal or greater capacity than competitive units that are larger in footprint (14' x 26') and higher in fan motor HP.

The ESW4 was developed specifically for high tonnage applications such as data centers, process cooling, and large HVAC applications – in applications where the least amount of energy is consumed by the fewest number of units, connections, and fans.

EVAPCO's ESW4 fluid coolers have the highest IBC ratings in the industry, are available with factory-mounted water treatment, and FM Approved construction.
More From 4/11/2019 on FacilitiesNet