« Back to Facilities Management News Home
Plumbing Fixtures Recognized for Innovation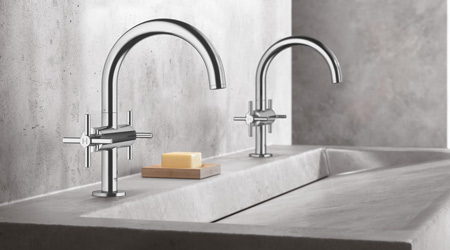 American Standard, DXV, and GROHE, part of LIXIL, maker of water and housing products, have earned six prestigious 2018 GOOD DESIGN Awards in the kitchen and bath categories for design innovation and excellence. These awards are presented by the Chicago Athenaeum Museum of Architecture and Design in cooperation with the European Centre for Architecture, Art, Design and Urban Studies.

American Standard
The GOOD DESIGN Award recognized the Beale MeasureFill Touch kitchen faucet, which delivers an adjustable set volume of water on demand, ranging from a half cup up to five cups. Consumers now get the precise measurement faster than using conventional measuring cups, and in turn, streamline their cooking and baking tasks. Also, the easy touch on/off feature is ideal for full or dirty hands – so a touch of the wrist or back of the hand is all it takes to operate this faucet.

Another award winner is the Studio S Bath Faucet Collection of stylish bathroom sink faucets, bath/shower faucets, and accessories. Specifically designed to be a time-saver to install, the Studio S sink faucets incorporate the Speed Connect Drain, a pre-assembled system that won't need adjusting now or years down the road. The shower faucets in this collection feature TRIMendous universal valve technology, making it simple for consumers to change the trim after installation without having to rip out their tile.

DXV
A GOOD DESIGN Award winner in the bath category, the DXV Modulus Bath Collection features an array of products that blend form and function into a useful bathroom. From lavatories to faucets and showerheads, these products offer an endless array of modular configurations. That means consumers have the flexibility to transform any space—from spacious master bathrooms to quaint powder rooms—into their own personalized bath oasis.

GROHE
The GOOD DESIGN award-winning products from GROHE include the updated Atrio Bath Faucet Collection, which now features a slimmer, more streamlined shape, perfect for consumers who crave a more simplistic look and feel in their bathroom. The lavatory faucets in this collection feature a water-efficient flow rate of 1.2 gpm, and are EPA WaterSense-certified and compliant with CEC regulations in California.

Another award recipient is the Tallinn Faucet Collection, which pairs geometric forms with soft curves, and is perfect for consumers who prefer contemporary styling in their bathroom or kitchen.

Featuring a wide spray face and the cutting-edge GROHE DreamSpray technology, the GOOD DESIGN Award-winning Tempesta 210 shower head provides consumers with a deeply relaxing experience in the comfort and privacy of their own home.

"The product design and engineering teams at LIXIL are constantly exploring ways to incorporate new technologies and design innovations into our products to make better homes a reality for the consumer," said Katty Pien, chief marketing officer of LIXIL Americas. "To receive six awards from a distinguished program like GOOD DESIGN for our brands American Standard, DXV, and GROHE is a notable accolade."

Each year, the prestigious GOOD DESIGN Awards recognize the most innovative and cutting-edge industrial, product, and graphic designs produced around the world. The award program emphasizes quality design of the highest form, function, and aesthetics of a standard beyond ordinary consumer products.
More From 1/25/2019 on FacilitiesNet