« Back to Facilities Management News Home
Emergency Response Software Keeps People Connected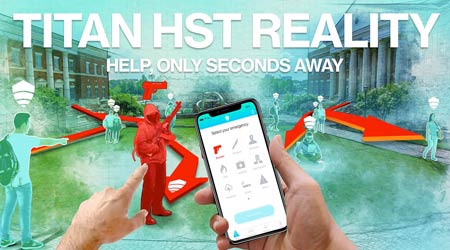 Environmental catastrophes created $160 Billion in loss during 2018, with 2019 also off to an impactful start. Extreme weather scenarios such as localized flooding, wildfires, blizzards, earthquakes, hurricanes, and tornados are becoming realities for countless people across the country. Titan HST, a leading provider of next-gen emergency response systems, allows businesses to stay connected with their employees and customers in times of crisis, allowing them to provide the proper help and services needed.

For organizations in all industries, from local government and utility companies to hotels, schools and hospitals, improving emergency response times and enabling efficient incident resolutions are priorities Titan HST can help streamline. Titan HST's cross-platform solution includes a variety of features that ensure you have confidence in any emergency.

Broadcast Notifications:
Hurricanes are unpredictable forces of nature and as recently as Hurricane Michael, which struck the Florida Panhandle in October of 2018, notice of a strike can be a last-minute occurrence. Titan's system can serve as a storm warning system through its broadcast feature, which allows system administrators to send mass broadcast messages, photos and videos to users to better inform and instruct them on how to stay safe.

Safety Status:
When an extreme weather situation like a tornado hits, it can be overwhelming and chaotic for first responders to determine who is safe and who needs help. Titan HST's system allows administrators to check the safety status of their users, see who needs help, and using GPS services, triangulate where the person who is requesting help is located.

Two-Way Communication & Real-Time Translation:
When flooding occurs, people oftentimes become trapped for days without any way to call for help. Whether it's a hotel employee trapped indoors, or a utility worker stranded in a field, Titan HST's two-way communication and multi-lingual, real-time translation allows users to speak to first responders or system administrators to tell them the specifics of their emergency and get help immediately. Titan HST currently supports nearly a dozen languages, including, English, Spanish, French, Chinese, Japanese, Korean, Vietnamese and Arabic.

Augmented Reality:
Wildfires have consumed the state of California over the last several years. The property damage, loss of forestry and loss of life that have resulted from these fires is almost unfathomable. All the while, firefighters and first responders are doing their very best to not only fight the fires, but save people who have gotten in harm's way. Titan HST's augmented reality feature allows firefighters tolocate users in no visibility situations such as under rubble, through smoke or through walls to save as many victims as they can.

Mesh Networking:
When natural disasters such as storms, wildfires, tornados, hurricanes, or major earthquakes occur, infrastructure can be decimated. Infrastructure can be physically destroyed; infrastructure that is physically spared often still faces issues relating to power outages and network congestion, impeding communication capabilities and rendering traditional forms of communication unreliable or non-existent. Customers have no way of communicating with not only their loved ones, but with first responders and service providers. When cellular towers are down, and Wi-Fi isn't accessible, Titan HST's mesh networking technology allows users to link to nearby phones and communicate vital information, helping restore order and keep the right people informed to deploy help, save lives, and mitigate property damage.
More From 1/25/2019 on FacilitiesNet