« Back to Facilities Management News Home
Mobile App Aims To Improve Facility Safety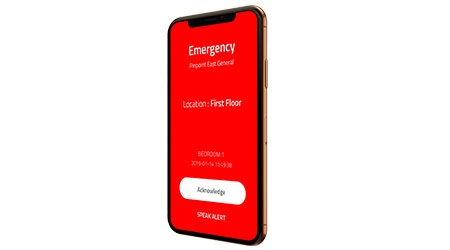 Following the launch of an App for PC and Android last year, Pinpoint Ltd, designer and manufacturer of the INSTANTalarm 5000 System, has launched a new Pinpoint Mobile Alert application for iPhone and iPad mobile devices on the iOS operating system.

"By adding the app for iOS devices, we are enabling our customers to interact with the INSTANTalarm 5000 System in a way that suits them best", says Allan Aikman, senior design engineer at Pinpoint Ltd. "This enables operations and IT managers to now have the choice of either iOS based devices using the new App or the existing App for Android devices.

"Where BYOD (bring your own device) is permitted, users can now interact with the INSTANTalarm® 5000 System on their own phone as well as existing iPads that they have on them every day, rather than having to carry additional mobile devices."

Pinpoint Mobile Alert is now an iOS and Android application that enables mobile devices to receive information like alarms, patient calls and system status updates.

Data transmission utilizes any available connection like WiFi and cellular 4G technology, providing better coverage and reliability than traditional paging systems. By the combination of these technologies, the operating range is unlimited and message delivery almost always guaranteed. Poor or no reception does not stop, but only delays, delivery until the wireless connection can be re-established.

As soon as an alarm is activated on the Pinpoint System, it is sent to the mobile devices. A push notification appears on the screen that takes the user to the full notification, which will indicate the severity-level of call, the system it originated from, the zone and the address of the call button or personal transmitter. The push notification will also make the device vibrate and emit an audible alert.

The display differentiates between active and resolved alarms on separate tabs. Each user can clearly see which alarms are ongoing and have been for how long and which have been dealt with.

Each user is set up with a personalized profile that specifies which alarm types and call zones the mobile application should alert to. The profile settings can be accessed from any device with the correct user name and PIN, meaning users can access their settings and event history from any device that has the application installed.

The application is very easy to set up and the display can be customized to the needs of the organization. Call severity levels can be added and changed at any time by a user with admin privileges through a web portal.

Designated system supervisors receive maintenance alerts if the Pinpoint System detects any issues like a failed self-test, units going offline or problems with the power supply.

The application is fully backward compatible with legacy Pinpoint Systems through the addition of a cloud interface.
More From 2/4/2019 on FacilitiesNet