« Back to Facilities Management News Home
Expanded Engine Line Targets Fuel Efficiency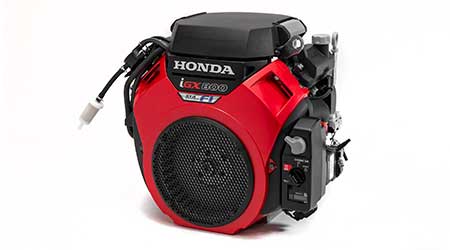 Honda has introduced powerful new additions to its legendary GX Series of V-Twin general-purpose commercial engines.

Expanding the lineup are four new Honda V-Twin engines, the iGX700/iGXV700 and iGX800/iGXV800, models that offer commercial construction and turf industry customers versatile power and greater adaptability with excellent fuel efficiency in a compact package. Providing enhanced performance and quality, the engines are equipped with fuel injection technology and an integrated electronic self-tuning regulator (STR) governor that delivers drive-by-wire remote control capability to manage key aspects of engine operation.

The new Honda V-Twin engines, available in both horizontal and vertical shaft configurations, share the same footprint as existing models. The electronic governor allows the engine to regulate power when the load changes for the demanding commercial applications including concrete and construction equipment (power screeds, hydraulic power units, concrete saws, ride-on concrete trowels, vibratory rollers, generators and pressure washers) and commercial turf equipment (zero- turn radius mowers, lawn tractors, garden tractors, utility vehicles, trenchers, stump grinders and chipper/shredders).
Like the current Honda GX630/GXV630 and GX690/GXV690 models, the new iGX700/iGXV700 and iGX800/iGXV800 engines feature cutting-edge design and innovative, technologically advanced elements, including a hemispherical combustion chamber, an integrated cylinder and cylinder head, forged steel connecting rods and a 9.3:1 compression ratio, contributing to high efficiency as well as low noise and vibration. In addition, the integrated cylinder and head eliminate the need for a head gasket, resulting in superior cooling and reliable performance. The integration of electronic fuel injection (EFI, see discussion below), along with the advanced combustion chamber design and the integrated Digital Capacitive Ignition (CDI) with variable timing, results in excellent fuel efficiency and enhanced operation.

"Honda V-Twin engines, part of our legendary family of commercial grade engines, provide durable and flexible power, excellent fuel efficiency, and quiet operation for industry professionals who depend on the longevity of their equipment to get jobs done in high-demand, heavy-duty commercial, construction and rental applications," said Will Walton, Vice President, Honda Power Equipment. "Beyond these respected Honda attributes, the new iGX700/iGXV700 and iGX800/iGXV800 models expand our V-Twin lineup while offering a host of added benefits, such as versatile power delivery for larger equipment, ease of operation and reliability for contractors, equipment operators, OEMs and Honda dealers and service providers."
More From 2/4/2019 on FacilitiesNet