FacilitiesNet eNewsletter
Best Information Tool For Busy FMs
We will keep you updated with trends, education, strategies, insights & benchmarks to help drive your career & project success.
« Back to Facilities Management News Home
Lighting Plays Central Role in Occupant Comfort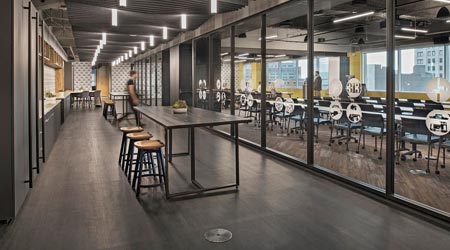 Microsoft recently moved its regional technology and training center from Southfield, Michigan, to downtown Detroit's central business district, taking advantage of that area's growing tech hub. It occupies the 5th floor of One Campus Martius in a 45,000 sq.ft. space. On any given day the technology center plays host to customers, Microsoft executives and employees, utilizing the facility for R&D, product demonstrations, training and meetings.

While many of the rooms are designed for function, the overall space is anchored by three informal gathering areas and wide-open corridors. The aesthetic combines residential and commercial design elements, utilizing furniture, area rugs and wall elements traditionally associated with residential design. Illuminart, the lighting division of Peter Basso Associates Inc., was brought in to address the diverse lighting requirements for the project.

"There is definitely more of a hospitality vibe," said Elizabeth Williams, lighting designer at Illuminart. "It's a comfortable, visually interesting space, with areas for clients to sit and enjoy themselves without feeling too corporate."

Lighting in the common spaces and corridors is intended to set a calming mood, contributing to that hospitality feel. Luminis' Syrios SY606 pendant, with both an up and downlight, was selected as the predominant fixture throughout these areas. The architect wanted a luminaire that "disappeared into the space" yet still had a strong industrial feel to it to match the high exposed ceilings. Williams explained that the Syrios SY606 made a lot of sense based on aesthetics, but also because the luminaire was able to provide a significant amount of light in an energy-efficient package. The uplight delivers a distinctive glow on the exposed ceiling to highlight the expanse, while the downlight pushes light to the individual work spaces, task areas and walkways. The black exterior finish of the fixture blends into the dark ceilings and duct work.

Williams specifically chose a regressed light module on the downlight for visual comfort. "I wanted to be sure that there were appropriate light levels in all of the spaces, but I did not want glare coming from the base of the cylinder. The lighting had to be comfortable to sit underneath; when employees or clients glance up, they are not blinded by light."

Another component of the lighting design was the ability to create ambiance while still providing an environment that was conducive to work. Williams paid a lot of attention to where tasks would be taking place, including furniture layout and work surfaces. So, she appreciated that the Syrios SY606 is adjustable from both the top and bottom. "There are giant drop metal ceilings in the middle of the space, which limited the areas where I could place the luminaires. It was great to be able to make adjustments to the lighting on site during the installation, angling the light beams as we needed."

Williams also opted for a Luminis product in the kitchenette area adjacent to a training room. The contemporary Lumistik CL322, a cylindrical pendant with a 3" diameter and a diffused acrylic lens, was used to provide the right combination of ambient light and aesthetics. Thirty pendants form two striking rows down the length of the space, interspersed with acoustic ceiling accents that emulate a "wave". Williams noted that the training room is more functional and corporate in its design, so they sought to create a break area that provided a contrast and enabled users to "shift their perspective". The Lumistik products provide a welcoming, comfortable light to the overall space but also direct the appropriate amount of light to various areas such as tables, counters and appliances.

Additional products from the Syrios family were used in other common areas to complement the SY606. The Luminis SY310 surface mount fixtures and SY305 pendants are located in the server display areas and Executive Briefing Center service counter and vestibules.

"It's great to work with a manufacturer like Luminis that carries lines with a lot of different design options. It enables me to maintain the design aesthetics of my project while fulfilling specific functional needs," said Williams.

Williams concluded that she is extremely satisfied with the results. Employees and clients alike have indicated their appreciation of the unique environment that has been created to stimulate innovation and collaboration in an ever-evolving high-tech industry.
More From 2/19/2019 on FacilitiesNet