« Back to Facilities Management News Home
Lighting Controls Boost Occupant Comfort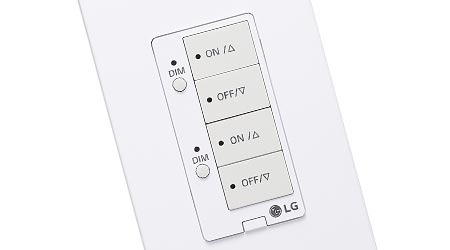 Next-generation smart lighting advancements from LG Electronics offer installation flexibility and expanded connectivity options for commercial and retrofit applications. LG's new 480V step down transformer and battery scheduling switch are being introduced at LightShow West 2018 (LG Booth #1621).

"LG's 480V Step Down Transformer and Battery Scheduling Switch are optimal choices for commercial building managers seeking upgrades to their existing lighting. Our industry-leading LED solutions provide the perfect alignment of energy efficiency and forward-thinking innovations for today's lighting professional," said James Bailey, head of LG's U.S. LED lighting business.

LG's 480V step down transformer provides a solution for effective power conversion down to 277V, enabling building owners with three-phase power to use existing wiring to connect with any LG LED lighting fixture. Once commissioned, LG lighting solutions offer a wide selection of control options such as light levels, time-out features, fade rates and scheduling. The lightweight design allows for easy installation And LG's 480V step down transformer solution is ideal for large indoor spaces such as warehouses, factories and gymnasiums.

"Our new Battery Scheduling Switch allows retrofit installers to easily upgrade existing switches with better features for a more streamlined experience," said Bailey. "With an intuitive operation and function, and longer battery life, LG is once again bringing state-of-the-art LED lighting and seamless integration innovations to the market, with this helpful wireless control tool."

The next-generation LG Battery Scheduling Switch allows users greater control of lighting, with improved scheduling functionality and design for easier operation, and up to 9-1/2 years of use with four AAA batteries. The battery-operated switch can be placed virtually anywhere and offers full wireless control using ZigBee to easily configure and control fixtures, along with an energy- saving set scheduling feature.

Through LG's wireless commissioning app, the new battery powered scheduling switch allows users to toggle between fixtures, grouping them together for such features as dimming and turning on/off from the switch and control up to 10 events per day. LG's battery scheduling switch also matches the look of the AC wired switches for a consistency across the project. LG's lineup of LED lighting solutions and controls is aimed at making customers' lives easier with innovative technology.
More From 10/29/2018 on FacilitiesNet