« Back to Facilities Management News Home
Lendlease: Company Completes First Hotel in U.S. Made of Cross-Laminated Timber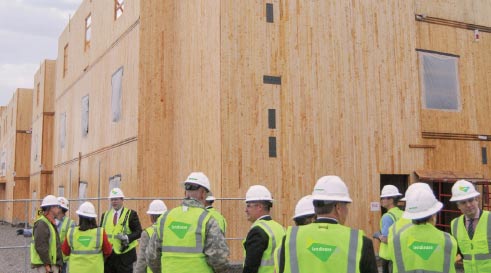 Lendlease, a leader in public-private community development, has successfully completed the first hotel in the U.S. using Cross Laminated Timber (CLT), the newest disruptive material in the construction industry.
The Candlewood Suites hotel, which is part of Lendlease's Privatization of Army Lodging (PAL) portfolio, is located on Redstone Arsenal in Huntsville, Ala. The hotel's event highlights the unique and innovative relationship between the U.S. Army, Lendlease, and IHG Army Hotels.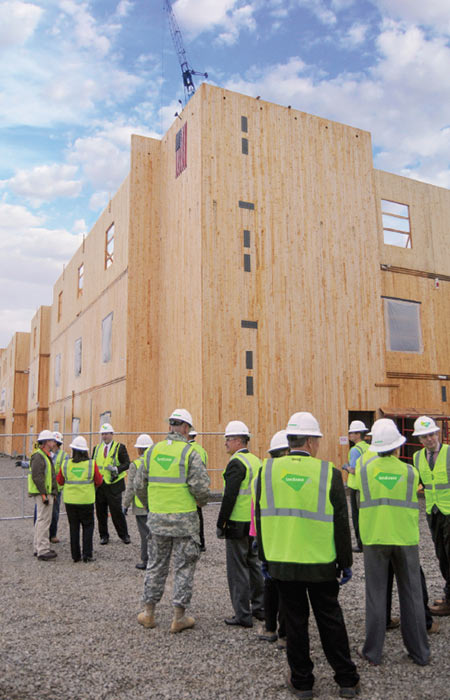 Made of several layers of pressed lumber board stacked in alternating directions, CLT offers builders maximizes strength and durability with added sustainability. (See photo of the hotel during construction.) The hotel, which opened March 29, is a LEED Silver Compliant Design, and is projected to achieve a 31 percent energy savings when compared to typical hotels buildings of the same size for the same climate.
Lendlease is the owner, developer, design-builder, and asset manager for the Candlewood Suites on Redstone Arsenal, and the exclusive developer for the Department of Defense's only lodging privatization program. IHG (InterContinental Hotels Group) is the hotel operator.
Lendlease has delivered 14 Holiday Inn Express and eight Candlewood Suites hotels throughout the United States, including the 310-room Candlewood Suites on Joint Base San Antonio, the largest in the world.
More From 5/25/2016 on FacilitiesNet