« Back to Facilities Management News Home
Impact Driver Offers Improved Versatility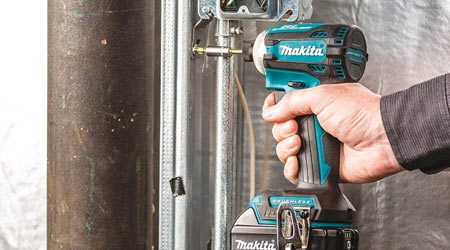 Makita U.S.A., Inc. has introduced the 18V LXT Brushless 4-Speed Impact Driver (XDT16).

The XDT16 offers users four speeds, as well as Makita's exclusive Quick-Shift Mode for increased fastening control. With the best power-to-weight ratio, the XDT16 is the most compact and lightest weight impact driver in its category.

4 Levels of Impact
The XDT16 offers four precision fastening settings: Assist Mode, auto-stop, and two tightening modes.


Assist Mode (A-mode) is for driving longer fasteners into wood and helps eliminate "screw cam-out" and "cross threading" by driving at low speed until tightening begins.
Auto-Stop Mode stops rotation and impact when the fastener is loosened adequately. This is ideal for mechanics when removing nuts or bolts.
Tightening Mode 1 (T-1 Mode) is to be used on self-drilling or Tek screws for lighter gauge materials. The tool starts spinning at full speed, then stops upon impact, keeping the tool from stripping the material.
Tightening Mode 2 (T-2 Mode) is for using self-drilling or Tek screws on heavier gauge materials. In this mode, the tool starts spinning at full speed, then reduces speed at impact, allowing the user time to draw materials together. This reduces breaking of the fastener or driver.

The 4-speed power selection (0-1,100/ 0-2,100/ 0-3,200/ 0-3,600 RPM & 0-1,100/ 0-2,600/ 0-3,600/ 0-3,800 IPM) provides precise fastening control. The Quick-Shift Mode™ feature automatically uses the brushless motor's electronic controls to find the best balance of speed and torque for each application for more efficient fastening. For added convenience, a one-touch 4-speed power selector button is located under the chuck for one-handed speed change. All controls are located on the tool at the user's fingertips.

Shine Bright Like an LED Light
Two bright LED lights are placed on the sides of the chuck to help eliminate shadows and illuminate a larger area. The lights also pre-glow in preparation of drilling and provide an after-glow.
More From 2/12/2019 on FacilitiesNet