« Back to Facilities Management News Home
Heat Exchangers and Enhanced Leak Detection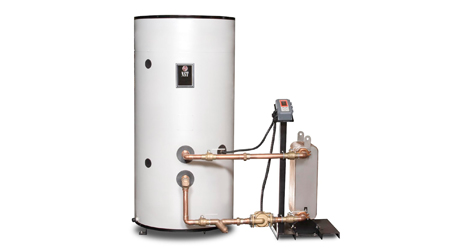 Niles Steel Tank has introduced single- or double-wall Power Plate heat exchangers for commercial facility domestic water applications with a design that provides a high rate of heat transfer, with optimal protection against leaks, and cross-contamination.

To provide consistent performance and highest energy efficiency, Power Plate heat exchangers are paired with NST tanks of varying size, from 80 to 2,500 gallons.

When coupled with the company's Ultonium-lined or duplex stainless steel alloy storage tanks, building owners or managers are rewarded with the highest assurance of reliable, high-volume domestic water heating.

Power Plate systems can efficiently heat between five and 300GPM. Units come with grooved connections for easy boiler hook-up.

Double-wall versions provide the highest level of leak/cross-contamination protection, safety, thermal efficiency and durability in a compact, low cost design.

The heat exchanger's peripheral braze creates a very strong assembly. Its four dedicated leak ports provide quick and easy leak detection.
More From 1/21/2019 on FacilitiesNet