« Back to Facilities Management News Home
Fire Sprinkler Designed for Healthcare Environments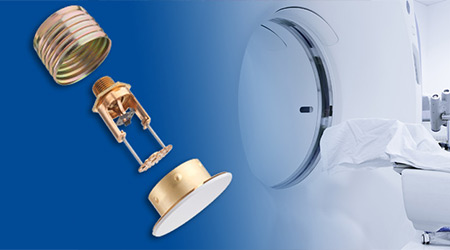 Johnson Controls introduces the Tyco RFII-MRI 5.6 K-factor Non-Magnetic Concealed Pendent Sprinkler, developed for use in Magnetic Resonance (MR) system rooms in healthcare environments. The sprinkler is acceptable for use under a static magnetic field strength of up to 7-Tesla, more than twice the magnetic strength of standard MRI equipment, which are typically around 3-Tesla.

The RFII-MRI sprinkler is available in both standard and extended coverage options. With a quick response extended coverage (QREC) rating of up to 400-square-feet (20 feet by 20 feet), the extended coverage model helps protect MRI rooms with up to five fewer sprinklers than the standard coverage option. Both models feature a flat cover plate designed to conceal the sprinkler.

"Objects made of magnetic material can be dangerous in medical scanning rooms due to the presence of powerful MRI magnetic fields," said Bob Cordell, global product manager, Johnson Controls. "This new non-magnetic sprinkler provides a UL and cUL Listed solution that helps keep patients and staff safe."

The sprinkler is offered in two temperature options: a 155°F (68°C) sprinkler with a 139°F (59°C) cover plate, and a 200°F (68°C) sprinkler with a 165°F (59°C) cover plate.
More From 6/28/2019 on FacilitiesNet