CPower - Healthcare Facilities
Webcast: Learn How Energy Assets Can:
Provide Significant Savings, Generate Revenue, & Maximize ROI. Wednesday, October 9, 2019 at 11 AM ET
« Back to Facilities Management News Home
Fabric Air Ducts Offer Improved Efficiency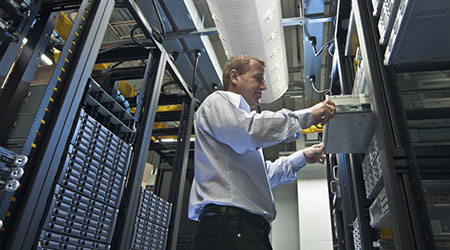 Fabric duct and air dispersion systems are becoming more prevalent in data centers and critical environments due to their easy installation, simple maintenance, customizable options and green advantages. These fabric ducts, from DuctSox, allow for targeted air dispersion, temperature consistency and air containment, three highly valuable qualities. The porous duct is directionally adjustable, allowing for specific air flow targeting for servers or critical spaces. Their porous fabric design means the entire duct is a diffuser, which helps facility managers maintain precise control of the environment and even save up to 80 percent in energy costs compared to metal. Outdated metal ductwork only offers localized diffusers spaced many feet apart, creating hot and cold spots along the length of the system.
More From 7/24/2019 on FacilitiesNet