« Back to Facilities Management News Home
CMMS Offers Enhanced Analytics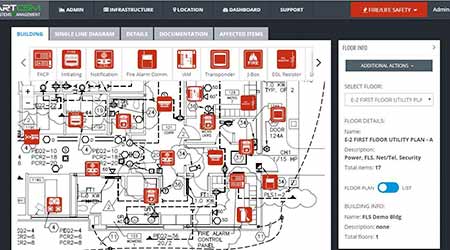 SmartCSM is a facility management solution that helps facilities vastly simplify access to data for their whole operating team and save tens of thousands to hundreds of thousands of dollars a year. It brings all building infrastructure -- electrical, HVAC, plumbing and low voltage -- into a central online location to provide a visual, interactive and connected database for facility management teams.

While facilities teams spend an average of 1 - 3 hours each day sorting through OEM manuals, plans and paper logs, these records are often inaccurate, aging, or worse. SmartCSM is an easy-to-use platform to make facility management teams perform better, with greater efficiency and reduced cost.

The online mapping system makes it easy and intuitive for facility operators to locate assets, infrastructure and equipment details in a Google Maps solution vastly reducing in field hours wasted struggling with aging paper records.
"We've found excess time wasted in-field sorting old and inaccurate documentation before we can even service a building," said Sean Roberts, facilities supervisor for the City of Manhattan Beach. "SmartCSM helps reduce that waste by helping us convert and digitally organize our plans and documentation thus reducing work time and mitigating risk. In addition, they put us on a direct path to citywide BIOT, Building Internet of Things."

In Its endeavor to evolve facility from physical to digital management, the company recently announced the launch of a new category of software for low-voltage system support, which offers simple and easy management of low-voltage systems. It's an innovative, drag-and-drop solution for managing fire and life safety, network and telecom, security and more.
"Building a connected view of building starting with electrical and moving into other infrastructure like low voltage begins to provide a mapping solution unlike any out there," said Craig Caryl CEO of SmartCSM, "one in which as an operator you truly know what is impacted up and down line and way to avert catastrophic or major issues."

One of the key features of SmartCSM's low-voltage system support is the ability to add unique icons to indicate devices or other features on a floor plan. These icons are clickable to reveal common fields such as the device/feature name, location, image and other device-specific fields.

Although there are many icon options for the three main low-voltage areas, there are a few key ones that this system support displays. The commonly used icons for the Fire/Life Safety low- voltage area include alarm control panels, annunciators, pull boxes, smoke, heat, and CO detectors, connection to the fire department, fire extinguishers, and emergency exits and exit signs. For Network/Telecom, icons include networking and telecom rooms, racks, patch panels, routers and other rack-mounted equipment, and wall end points. Badge and biometrics readers, electric locks, motion detectors, window open detectors, glass-break detectors, and control panels are the commonly used icons for low-voltage areas in Security.

"I want to be able to digitally open up our Single Line and see the path that the energy takes and then be able to open up electrical rooms, see inside of panels, find disconnect switches, and get access to all of the documentation related to that energy trail" said Kenneth Seeton, the CSUDH Manager Central Plant/Energy Manager, "SmartCSM makes my operations safer and more efficient"

SmartCSM has a unique ability to show or hide a trade or subtrade with a single click, so the user can see all fire/life safety devices alone or add electrical to see how the devices are energized.
More From 6/21/2019 on FacilitiesNet