Facility Manager Cost Saving/Best Practice Quick Reads RSS Feed
International Roofing Expo Continues To Grow, Challenge Conventional Wisdom
March 2, 2016 - Contact FacilitiesNet Editorial Staff »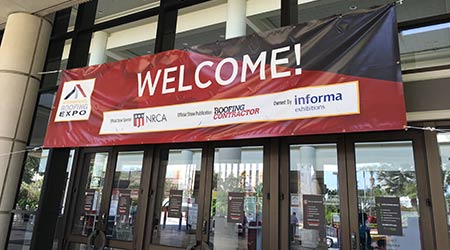 Conventional wisdom is that the roofing industry is one that moves at a glacial place in terms of innovation and willingness to change. At this year's International Roofing Expo in Orlando, exhibitors did their best to challenge that notion.

The first thing everyone seemed to notice about the show was how much it's grown recently. This year, more than 10,000 attendees visited 1,206 exhibitors over the course of three days to learn about all things roofing. The last time the show was in Orlando in 2012, the show had about 8,400 attendees and 932 booths.

The second thing is how much roofing has moved from simply a cover on a building, to a fully integrated, critical, long-term, sustainability strategy for a building consistent with any other sustainability strategy employed. Indeed, the theme of the show was unquestionably high-performance roofing, as vendors exhibited and focused on more options like daylighting and skylight systems, solar, green roofs, and durable roofing. One vendor continues to tout the results of its independent third party accelerated weather tests showing how its TPO lasts longer than the competition. Another vendor prominently displayed its sparkling new NSF/ANSI 347 Platinum certification – a holistic sustainability and life-cycle assessment certification for roofing.
Check out our photo gallery from the show!

Next year, the show moves back to Las Vegas, March 1-3.

This Quick Read was compiled by Greg Zimmerman, Executive Editor of Building Operating Management magazine, greg.zimmerman@tradepress.com.

Read more from him about how research on cool roofs shows energy savings benefits.
---
Comments