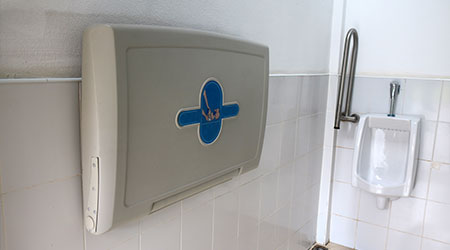 NYC Mandates Equal Access to Diaper Duty
All public bathrooms in New York City must have diaper changing tables, according to a recently passed New York City Council bill, making it the first major city to mandate changing tables in all public restrooms. The bill passed with no opposition on December 11, 2017, and was sent to the mayor's desk for signature.

First introduced in August 2016 by council member Rafael Espinal after he witnessed a father changing his child's diaper on a restroom sink, the bill requires new or renovated buildings with public restrooms to make diaper changing tables available to all people in the facility, regardless of their gender.

Similar legislation was passed in 2016. The Bathrooms Accessible in Every Situation (BABIES) Act mandated access to diaper changing tables in public restrooms, but only affected federal buildings. The New York City law affects all public restrooms.

While awareness for the need for equitable access to diaper changing tables and other restroom facilities has grown over the years, some jurisdictions hesitate to mandate such access. In 2014, Governor Jerry Brown in California vetoed two such bills, saying that while making baby-changing tables is a good business practice, it's a decision best left to the private sector.

This Quick Read was submitted by Naomi Millán, senior editor, Building Operating Management.
---