You Might Like
On FacilitiesNet
Time-tested Partitions Still Best Choice at Convention Center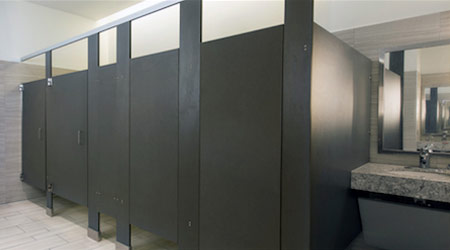 April 3, 2020 - Plumbing & Restrooms
In a facility that sees extraordinarily high traffic regularly, it's expected that toilet partitions will endure some wear and tear. But at downtown San Antonio's flagship convention center, Bobrick SierraSeries solid color reinforced composite (SCRC) partitions showed no signs of aging after more than a decade in use. So years later, when time came for a thorough renovation, Henry B. Gonzalez Convention Center went for a repeat, with damage-resistant SierraSeries as the partitions of choice throughout the convention center.
During the project's design development phase, changing to color-through phenolic partitions was considered and materials tested. For example, the ASTM D 6578 graffiti resistance test consists of preparing material samples with marks from nine staining agents. After 24 hours, the marks are cleaned until they are removed. All nine marks were removed from SCRC. In the ASTM D 2197 scratch-resistance test procedure, weights up to 10 kg (20 lbs) are added to a scraper and a material sample is dragged beneath the scraper. When a scratch occurs, the weight is recorded. SCRC did not scratch with 10 kilograms of weight. These test results underscore SCRC an ideal partition material for high traffic and vandal-prone restroom.
The success of the past installation from 2003 and its durability performance made a strong case for keeping the original spec. Ultimately, 380 stalls and 66 urinal screens were installed. The partitions feature a Forest Green finish with 58-inch-tall doors in a floor-mounted, overhead-braced mounting configuration. To harmonize with the overall restroom design, numerous stainless steel Bobrick accessories inside and outside the cubicles were installed, including soap dispensers, combination units, and grab bars.
---
Comments