Medical Center Upgrades with Smart Faucets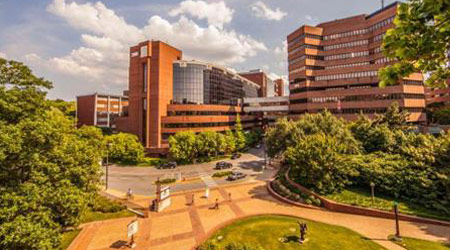 March 27, 2020 - Plumbing & Restrooms
The Vanderbilt University Medical Center (VUMC) is one of the largest academic medical centers in the Southeast, managing more than 2 million patient visits each year. With its adult and children's hospitals consistently ranked as one of U.S. News & World Report's Best Hospitals, VUMC is the primary resource for specialty and primary care in hundreds of adult and pediatric specialties throughout Tennessee and the Mid-South.
When it came time for VUMC to install new faucets, it needed a product that would help promote a hygiene-friendly handwashing process while standing up to high-traffic environments. VUMC also wanted a product that was easy to maintain while also enabling the facilities team to become smarter water managers. Sloan Optima faucets provided the solution.
Hospitals can be a breeding ground for germs and disease. Sloan's Optima faucets help to promote proper hygiene with their touch free-operation to cut down on cross-contamination. Installed throughout both public restrooms and nurses' stations, the faucets improve the handwashing process for patients and caregivers alike. With 2 million annual patient visits in addition to on-site medical staff, Sloan's faucets are subjected to plenty of wear and tear. The Optima faucets are not only durable enough to meet the demands of this high-traffic environment, but also deliver VUMC with water-saving benefits.
VUMC specified over 500 Sloan ETF-80 Optima hardwired deck-mounted faucets as the new standard for the entire facility. The faucets feature an underdeck Optima Control Box that reduces the service time needed by VUMC's facilities team. Maintenance staff is also able to remotely monitor each individual faucet through the Sloan Connect App. Enabling the maintenance staff with a mobile device on-site puts data right at the VUMC team's fingertips. The maintenance team is able to conduct weekly check-ins on specific fixtures throughout the facility. The data they gather allows the VUMC's staff to measure and report water usage as needed.
---
Comments