You Might Like
On FacilitiesNet
Law Firm Uses Tunable Lighting to Boost Appeal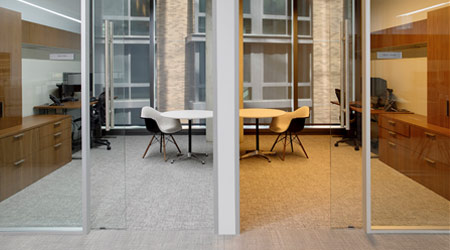 March 20, 2020 - Lighting
When it made the decision to consolidate operations at the new District Wharf development along the southwest waterfront in Washington D.C., Michael Best LLC wanted to make the law firm's new space one of the most innovative, comfortable, and appealing in the entire city. LED lighting controlled by color temperature tuning capabilities was at the top of the list.
To attract and retain the best employees, Michael Best decided it would base its new office in 31,000 square feet of Class A office space at 1000 Maine, one of the first commercial office facilities built at The Wharf. Featuring natural light and ten-foot floor-to-ceiling windows, the spaces within this commercial facility offer some of the best views of the city, the Potomac River, and the nation's landmarks.
Even with an open office layout with many large windows and significant daylighting options, there would still be areas where employees don't receive enough daylight due to factors such as season, cloud cover, desk orientation, and window shade position. The firm desired a color temperature tunable SSL system that would meet the needs of varying light color and quality to provide employees ideal light while also meeting LEED requirements for energy efficiency. Hubbell Lighting's SpectraSync solution was selected.
In the private offices, occupants can adjust both intensity and color temperature of the Litecontrol MOD 2L Surface Direct fixtures with integrated SpectraSync technology based on need or preference. NX Distributed Intelligence CCT Switch Stations are equipped with four presets that can be customized in the field or utilized with default programming from the factory.
Additionally, the NX Specialty Switch Station provides employees with the ability to raise and lower the brightness of the lighting, as well as turn the lights on and off in a room or designated zone. This can be used in conjunction with the color tuning wall station and operates independently from the color control.
The integral NX sensors allow Michael Best to automatically adjust brightness levels to account for incoming natural light. Vacancy sensors are already being used to override control of all fixtures, enhancing the project's efficiency.
---
Comments