Restroom Material Specification In Educational Facilities Can Be Driven By Age Of Students
Before putting in a material in an area with a high likelihood of vandalism, Triplehorn and his staff stress test it to make sure it can hold up.
"We take a piece of it and beat it to death, basically, before we sign off on it in one of our buildings," Triplehorn says.
When it comes to materials, the University of Pittsburgh has had success with graffiti-resistant stalls, says Greg Guzewicz, facility manager, Katz Graduate School of Business. The facility is open 24 hours, which obviously leads to more time for potential vandalism, but graffiti, at least, has been less of a concern thanks to the stall material.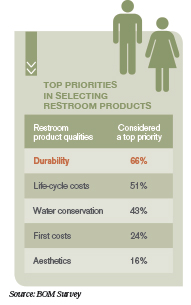 "It stays clean, and it looks like it looked the day we put it in," Guzewicz says.
In addition to materials, Triplehorn works with the administration to try to limit the amount of time that students have in restrooms during classes. While there's no guarantee that a student will not vandalize a restroom during a break between classes, it does limit the amount of time they could do so unobserved. A similar philosophy helps at Stanford, where Prussing's facility, Forsyth Hall, houses a data center, which is secure, and ID card services, which is open to students, faculty and staff. Because of the presence of the secure facility, there are security cameras in the hallways, which help cut down on vandalism in the restrooms. Cameras in other facilities help cut down on vandalism as well, but there's only so much cameras can do to help identify vandals, especially if vandalism is occurring during times when there's a lot of traffic, such as between classes.
There are other ways to help fight vandalism as well, especially when it comes to fixtures. Heavy-duty fixtures made out of stainless steel are more durable than other materials. Electronic faucets eliminate the possibility of water being left on indefinitely, and electronic paper towel dispensers will, at the very least, make it very time-consuming to clog sinks, toilets or urinals with paper towels. Automatic flush toilets offer a side benefit of resistance to vandalism by eliminating handles, which are popular targets for kicking or pulling.
Continue Reading:

Focus On Users Can Help Prevent Restroom Vandalism, Waste

Restroom Material Specification In Educational Facilities Can Be Driven By Age Of Students

Good Planning, Design Can Lead To Savings in Educational Facility Restrooms
---
---
---
Related Topics:
Comments