Focus On Users Can Help Prevent Restroom Vandalism, Waste
Students who decide to commit restroom vandalism are going to find a way. If a graffiti-resistant stall repels pens or markers, it might not necessarily repel a sharp object used to carve a message into the surface. If an electric hand dryer is more securely bolted to the wall than a paper towel dispenser would be, that doesn't mean it can't be defaced or marked up.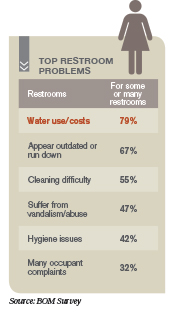 Sometimes vandals are willing to go even further than that, says Ron Triplehorn, maintenance and operations coordinator, Gallup (New Mexico) McKinley County Schools.
"There for a while we had a problem with kids bringing etching acid and they would etch the glass with their graffiti," he says. "They figured out that was the most permanent solution. We either replace the whole mirror or it stays there."
The ability of students to keep coming up with innovative ways to damage property is just one of the challenges when it comes to designing restrooms in educational facilities. Because students tend to not have as much of a sense of ownership as would users in a corporate facility, vandalism and waste of paper, soap, and water are more common. Restrooms in educational facilities also need to not only stand up to heavy traffic, but allow it to flow quickly when needed; a restroom in a high school will quickly become a major problem if it's designed in a way that prevents large groups of students from cycling through it quickly between classes. All of these factors play a role when it comes time to plan a restroom in an educational facility. To make sure they don't create problems, start by compiling a strong working knowledge of what is demanded of restrooms by each of the potential user bases.
Know Your Audience
One issue that complicates restrooms in educational facilities, says Tom Prussing, facilities manager, Stanford University, is the wide range of ages involved.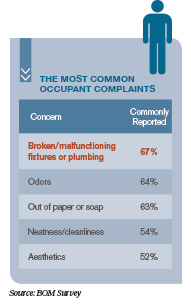 "You've got a student population that's very young, you've got a faculty population that can be very old and then you've got staff, who can be young and old," he says, pointing out that while the younger population may be more prone to vandalism, incontinence issues may arise with older users. And, as he points out, there's often a failure to report incontinence issues due to embarrassment, so regular checks of restrooms by cleaning staff can be helpful to ensure they stay clean as well as catch vandalism in the act or soon after.
The disparity in age ranges becomes more complicated when you factor in that you still have to make the same accommodations for types of users that you would in any other type of facility.
"In both the corporate environment and the academic environment, you still have the same necessities," Prussing says. "You still have to provide for men and women, you have to provide for (people with disabilities)."
In a K-12 environment, the age differences are a little easier to handle, says Triplehorn. Bathrooms dedicated to faculty and staff use can be treated more like bathrooms would be in a corporate environment, where durability doesn't have to be the largest concern. And, with students divided into different age groups based on the type of school, materials can be specified based on the student population of the building.
"If it's an elementary school, we can get away with doing tile on the walls," he says. "If we're going into a high school, especially in the locker room area, we look at more of the durable products and invest in that up front."
Continue Reading:

Restrooms: Lessons Learned

Focus On Users Can Help Prevent Restroom Vandalism, Waste

Restroom Material Specification In Educational Facilities Can Be Driven By Age Of Students

Good Planning, Design Can Lead To Savings in Educational Facility Restrooms
---
---
---
Related Topics:
Comments