You Might Like
On FacilitiesNet
Developments in Paint Technology Lead to Better Scruff Resistance, Heat Reflectance
Manufacturers's research and development efforts have led to better, more robust products that do much more than just cover walls.
OTHER PARTS OF THIS ARTICLE
Pt. 1:
Technology Improvements Lead To Better Paints
Pt. 2:
New Paint Products Reduce, Eliminate VOCs
Pt. 3: This Page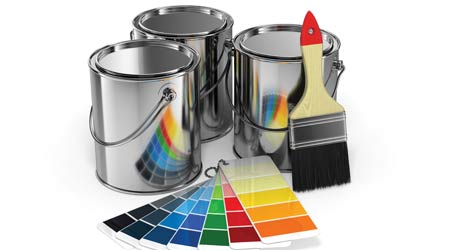 For indoor paint, newer products also provide resistance to burnishing when something consistently rubs against the wall. And when walls do require cleaning, less marking is left behind from the scrubbing.
Cooper says that polymer research makes products possible with features such as scuff-resistance. Such a paint would be a good fit in hotel and hospital hallways, and Cooper says it has also been popular with retail stores that don't have to repaint their dressing rooms as often. "The maintenance people are thrilled about it," Cooper says. "Instead of painting once a month, they can go without painting for a year or two or three." And the savings in labor are a significant factor in the product's life-cycle cost.
Along with the usual goals of reducing labor and making their product healthier, manufacturers are looking for other value that paint might add to a workplace. For instance, Revnew says, an antimicrobial paint can kill bacteria that settle on the walls.
"The idea of using coatings as sanitizers for surfaces have become very attractive," Erdem says. "A coating formulated with a chemical compound which is toxic to microorganisms can eliminate the need to wash surfaces with strong chemicals or bleach, representing a savings on labor and materials as well as less disruption of daily activities." Historically, copper, silver, and other metals were used to kill microbes, but because they also kill other organisms so effectively, regulators have banned their use in most applications, Erdem says. However, quaternary amines, which are used in many other disinfectant products, have recently been incorporated into some new coatings. The downside is increasing concern that disinfectants in every product may contribute to the rise of "superbugs" that can resist almost anything.
To reduce cooling costs in warmer climates, some manufacturers are experimenting with heat-reflective paint. Historically, the best way to prevent heat absorption in the sun was to paint a lighter color. But Watada says that near-infrared reflection technology incorporated into black or other dark-colored paints can reduce surface temperatures.
Erdem says that infrared-reflective coatings have been applied to wood, concrete, brick, stucco, composite, and plastic roofs. Reflective coatings incorporating features such as breathability, resistance to environmental wear and chemical efflorescence, and light and color stability have been developed and commercialized in the last 10 years.
Another recent feature in some premium coatings is formaldehyde abatement — so that when an office gets new carpeting or furniture, the paint on the walls can help reduce the chemical load in the air. Formaldehyde is widely used in many materials but awareness has been growing about the risks of high-level exposure ­— to say nothing of the smell. "The coating industry has been focusing on developing chemicals and raw materials that are free of formaldehyde," Erdem says. "Very recently, new architectural coatings based on acetoacetoxy chemistry absorbing formaldehyde emitted from construction and household goods have been introduced to the industry."
What kind of innovations are pursued in the lab and marketed? Every paint company has a research and development staff that does open-ended research, but sales and marketing teams are also reporting what clients are asking for. "It's a push-pull," Cooper says.
In developing new products, manufacturers always have to account for individual preference. Customers, Cooper says, "have so many different biases in paint. Whether it's thick or thin, how much brush drag there is." A paint company can produce a product that checks every box — but there may still be no accounting for taste.
David Lewellen is a freelance writer who covers facility issues.
Email comments to edward.sullivan@tradepress.com.
Continue Reading:

Paints

Technology Improvements Lead To Better Paints

New Paint Products Reduce, Eliminate VOCs

Developments in Paint Technology Lead to Better Scruff Resistance, Heat Reflectance
---
---
---
Related Topics:
Comments