Technology Improvements Lead To Better Paints
New materials and better manufacturing give facility managers a wider range of quality paints and coatings options.
OTHER PARTS OF THIS ARTICLE
Pt. 1: This Page
Pt. 2:
New Paint Products Reduce, Eliminate VOCs
Pt. 3:
Developments in Paint Technology Lead to Better Scruff Resistance, Heat Reflectance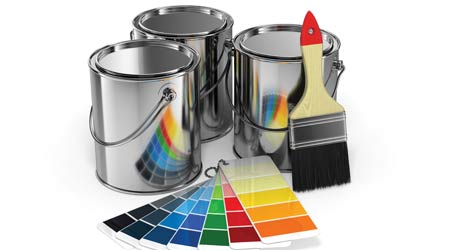 Advances in building technology aren't limited to such obviously high-tech areas as the Building Internet of Things. Paint and other coatings are also seeing gains as manufacturers' research labs come up with new formulas to solve evolving problems.
Technological innovations in paint are leading to coatings that are faster and easier to apply, last longer, and perform new functions, such as warding off disease and saving energy.
One example is that paint is easier to apply — technology allows for a smooth, even distribution off the roller, which means less time and less fatigue for the workers, says Steve Revnew, senior vice president of marketing and product innovation at Sherwin Williams. "The most expensive part of any job is the labor," he says, and a premium coating can help save money in that department — as well as reducing maintenance expenses in later years.
Another measure that manufacturers have taken to make application simpler is combining primer and topcoat. "Coatings with both paint and primer built in allow consumers and professionals to pick up one single coating product and skip the actual priming step," said Sidney Maxey, director of research and development at Behr. Two coats of the product still need to be applied, but "it does build primer technology right into the can."
Drying time
Quick-drying paint allows a second coat to be applied in an hour, instead of four to six hours, which reduces both labor costs and the time that the interior space is not available to users.
But quick-drying paint is a double-edged sword, according to Glenn Cooper, vice president of product development for Benjamin Moore. If a water-based paint dries extra fast, "when you roll back into it, you can actually pull it off." His company now measures a paint's "open time," the time between application and when it is too hard to work. For professionals, an open time of three to five minutes is enough for wall paint, Cooper says; for woodwork applications, five to seven minutes is enough.
"The industry has focused on fast-dry properties of variety of coating systems, such as epoxy, polyurethane, acrylics," says Bedri Erdem, vice president of research and development for Rust-Oleum. Polyurea and polyaspartics technologies are among the most preferred other technologies for their fast curing characteristics. But, says Erdem, "it is critical for the technologies, especially two-component systems, to have a good balance of application window and dry time."
Those two-component systems are the focus of many companies' research efforts. Eliminating two-stage products, "has been a challenge," says Shingo Watada, product manager for coatings and specialty finishes at Sto Corp. But it is in response to customer demand as clients worry about the shortage of skilled labor.
Mixing two components together to catalyze "was not user-friendly, even for professional contractors," Revnew says. But in many jobs nowadays, painters can save time that used to be spend on mixing, because many products that used to come packaged as two components are now only one. "The technology is built into the mixture that keeps everything together," Revnew says.
Manufacturers distinguish between hydrophilic and hydrophobic paints, Cooper says. A hydrophilic, or water-loving, product maintains a good wet edge as it goes on; a hydrophobic paint is in the fast-drying category.
And a super-hydrophobic paint falls in the self-cleaning category, Watada says. If water can rinse off dirt while keeping the surface basically dry, that eliminates the need for periodic pressure washing, he says.
Self-cleaning paint is designed so that dirt does not adhere, or adheres lightly enough that the next rain will wash it off. Such a paint still requires a properly prepared surface — "clean, dry, and dull," Revnew says — but it can be applied to masonry, with two coats of the same product and no primer. Such a coating also protects against efflorescence of concrete salts.
Continue Reading:

Paints

Technology Improvements Lead To Better Paints

New Paint Products Reduce, Eliminate VOCs

Developments in Paint Technology Lead to Better Scruff Resistance, Heat Reflectance
---
---
---
Related Topics:
Comments