Facility Manager Cost Saving/Best Practice Quick Reads RSS Feed
Asbestos Alert Targets Maintenance Workers
December 21, 2017 - Contact FacilitiesNet Editorial Staff »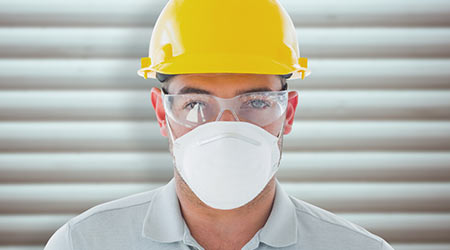 Technicians in maintenance and engineering departments at institutional and commercial facilities understand all too the risks involved in working in aging buildings. Deteriorating materials and unforeseen hazards present a host of potential safety and health concerns for the workers who must inspect and repair facilities.

One of the most problematic materials present in many aging facilities is asbestos, and an advocacy group is now targeting maintenance workers who might have been exposed to the material and now run the risk of developing the disease mesothelioma.

What are the 10 most common OSHA violations on worker safety?

"Prior to the early 1980s, school and hospital custodian or maintenance employees were potentially exposed to asbestos on a regular basis," according to the Mesothelioma Victims Center in an article in The Digital Journal. "Frequently, this exposure included regular exposure, as many of their duties included working on boilers or heating systems, along with steam pipes that were insulated or wrapped with asbestos.

"If you are a former school/hospital custodian or maintenance person and have recently been diagnosed with mesothelioma please call us at 800-714-0303. We want to make certain you have instant access to some of the nation's top lawyers to ensure you are informed about what will be involved in obtaining the best possible financial compensation for this rare cancer caused by exposure to asbestos. The extremely skilled mesothelioma attorneys we suggest consistently get the best financial compensation results for their clients on a nationwide basis. Please don't shortchange yourself when it comes to financial compensation for mesothelioma."

A school custodian or hospital maintenance crew could have been exposed to asbestos at the following types of workplaces:


Elementary school
Middle school
High school
Community college
University
Hospital
Nursing home
City or county.

Read more about worker safety and emergency planning.

The center fears many maintenance workers or custodians with mesothelioma will unknowingly sell themselves short when it comes to compensation by thinking their claim is not worth much, and this could be a huge mistake. A financial compensation claim for a maintenance or custodial worker with mesothelioma could be in the hundreds of thousands of dollars. Mesothelioma is a rare form of cancer caused by exposure to asbestos. High-risk work groups for exposure to asbestos include veterans of the U.S. Navy, power plant workers, shipyard workers, oil refinery workers, steel mill workers, miners, pulp or paper mill workers, printers, factory workers, railroad workers, plumbers, millwrights, boiler technicians, electricians, auto mechanics, machinists, welders, pipefitters, insulators, firemen, maintenance workers, custodians and construction workers. In most instances a person who has been diagnosed with mesothelioma was exposed to asbestos between the 1950s and the 1980s.

This Quick Read was submitted by Dan Hounsell — dan.hounsell@tradepressmedia.com — editor-in-chief of Facility Maintenance Decisions.
---
Comments