You Might Like
On FacilitiesNet
LED Technology: Market Watch
Part one of a three-part article on LEDs
OTHER PARTS OF THIS ARTICLE
Pt. 1: This Page
Pt. 2:
Lighting Needs for Education Facilities
Pt. 3:
Matching Lighting Needs with Commercial Applications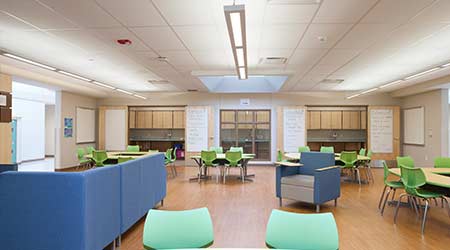 Acuity Brands
As LEDs continue to decrease in price and improve in performance, maintenance and engineering managers are realizing the technology is offering a wider array of opportunities for their institutional and commercial facilities.
"Even though it's getting fairly commonplace now, we're still at the beginning of the technology," says Kevin Youngquist of EarthTronics. "LED is here, and no one saying what LED is going to be replaced with."
Long hailed for their benefits related to performance, energy efficiency, and impact on maintenance, LEDs are entering the next stage of their development as a preferred lighting option. Managers in markets such as health care, education — both school districts and universities and colleges — and commercial buildings are looking to match specific applications to their unique needs.
Lighting manufacturers have tried to answer the demands of managers by introducing LED options that are designed to address those needs. From restrooms to classrooms and stairwells to parking lots, the impact of LEDs on facilities — and individual markets — is expanding.

Lighting and health
In health care facilities, the focus on lighting emphasizes the value of high-quality light and the effect it can have on patient health. It is an application that hospitals and other health care facilities are taking advantage of.
"For as long as we can remember, hospitals and health care facilities have been using fluorescent light fixtures to illuminate patient rooms, offices, hallways, and bathrooms," says Samantha Sonderen with Super Bright LEDs. "These fluorescent lights have been the go-to lights because of their light output, cost, and availability. What facility managers fail to realize is that fluorescent lights can have many negative effects on patients.
"They contain mercury that can be released if a bulb breaks. Mercury is toxic and can be harmful if absorbed through the skin or inhaled. Fluorescent bulbs also emit a substantial amount of ultraviolet (UV) radiation that can damage not only facility materials but can also damage skin and eyes. Continued UV exposure can even lead to blindness. These are significant things to consider for a facility whose purpose is to heal."
The composition of LEDs, which contain no mercury and emit little UV radiation, can help reduce the potential for headaches and dizziness in patients.
"These factors alone make them a better choice for health care facilities," Sonderen says. "Unlike fluorescent bulbs, LEDs won't flicker or emit any color spikes. When used in a health-care setting, LEDs have served to improve overall health and eliminate the possibility of additional health risks that fluorescent fixtures pose."
Since LED products are more compatible with controls than more traditional technologies such as fluorescent lamps, the health care market values them to help improve patient comfort.
"In the health care arena, there are a lot of tests being conducted right now about how the human body reacts to the color temperature," says Brian Daley of Revolution Lighting. "The human body, throughout evolution, has looked to the sun as the ultimate light source, and throughout the day the sun changes color temperatures. If we're able to dial into a warmer color temperature in the health care or hospital environment, our bodies may heal quicker, and LEDs allow for that."
Managers in health care facilities also can take advantage of the dimming advantages that LEDs offer in order to reduce energy use.
"Even in long-term care and within hospitals, urgent care and doctor's offices, the LED fixtures allow for color changing," Youngquist says. "They may like a nice, 5,000 K in the exam room when the doctor is in, but they may then want it at 3,000 K when the patient is waiting. There are so many things that can be done. That concept of being able to change the color of the light for what they're trying to accomplish at a given point at a particular time of day, or by task, is really impressive."
Continue Reading:

Supplier Perspective: Lighting

LED Technology: Market Watch

Lighting Needs for Education Facilities

Matching Lighting Needs with Commercial Applications
---
---
---
Related Topics:
Comments