Facility Manager Cost Saving/Best Practice Quick Reads RSS Feed
Plants Don't Do Much for IAQ: Study
November 15, 2019 - Contact FacilitiesNet Editorial Staff »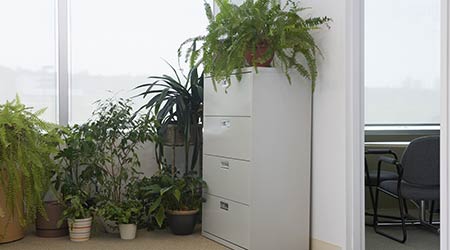 Plants are great for lots of things in buildings: a splash of color, adding interesting visual texture, taking the cold edge off of a modern space, improving patient recovery time. But cleaning the air? Eh, not so much.
It's not that plants don't clean the air, but rather that in a commercial environment the typical air exchange rate negates any positive VOC-scrubbing effect from potted plants, say researchers at Drexel University. In a study published in the Journal of Exposure Science and Environmental Epidemiology, they looked at the data from dozens of studies over the last three decades to calculate the clean air delivery rate of the plants in each study. The building air exchange rates were found to be much much faster than the plant's VOC-absorption rate. In fact, researchers calculated it would take "10 and 1,000 plants per square meter of floor space to compete with the air cleaning capacity of a building's air handling system," according to reporting in Drexel Now.
Keeping the plants in your space in good condition is important to preserving indoor air quality for other reasons, such as making sure they don't become sources of mold or other allergens. And keep them appropriately watered so they don't become fire hazards or simple eye sores. Just don't expect any sort of MERV rating on them any time soon.
Naomi Millán is senior editor of Building Operating Management.
---
Comments