Facility Manager Cost Saving/Best Practice Quick Reads RSS Feed
How Sustainability Must Complement Accessibility in Buildings
November 12, 2019 - Contact FacilitiesNet Editorial Staff »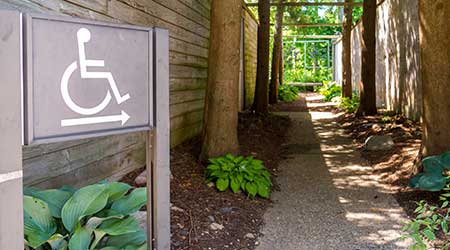 A space isn't truly sustainable if not everyone can use it in the same way. Nor is it healthy. It's been nearly 30 years since the Americans with Disabilities Act (ADA) became law, and much progress on accessibility has been made, but facility executives should also look at how sustainability, health and wellness, and accessibility can all complement each other as they plan facilities strategies.
At Northwestern University, for example, this philosophy of meeting multiple goals has been embedded in its DNA. Indeed, the university's slogan is "AND is in our DNA" — the idea is to show "that a student at Northwestern can be both a world-class athlete and a biophysicist, a first-chair clarinetist and a magazine journalist." That's from our profile of John D'Angelo, Northwestern's then-VP of facilities management (D'Angelo has since moved on to a similar position at the University of Chicago), in which we tell the story about how D'Angelo focused on sustainability AND accessibility, inclusivity, and universal design. One of my favorite quotes from the piece is this: "ADA is a minimum. There's nothing that says you need to stop at the minimum. Inclusivity is well beyond just accessibility."
The idea of accessibility complementing sustainability and occupant health is the topic of episode 3 of USGBC's Built for Health podcast. Luis Quintana, founder of Todo Accessible, and Peter Stratton, senior vice president and managing director of accessibility services at Steven Winter Associates, Inc., join "Built for Health" host Flavia Grey to discuss the ins and outs of universal design and adaptability versus accessibility. The conclusion is the same as D'Angelo advocated at Northwestern: "A building cannot truly be sustainable unless it is also accessible."
This post was submitted by Greg Zimmerman, executive editor, Building Operating Management and FacilitiesNet.com. Read his cover story about Chris Walinski and his mission to make open offices flexible and productive.
---
Comments